THE PROJECT
A cost effective water filter for use in rural Tanzania by the Maasai, combining simple and low cost manufacturing technologies. 
This water filter was designed as my fourth year capstone project in partnership with the "From Buckets to Rain Barrels" project and the WATER program at Carleton University. 
I was given the opportunity to work directly with a small ceramic filter factory in Arusha, Tanzania now known as Wine to Water East Africa to develop this filter.
WATER IN LONGIDO, TANZANIA
Minimal rainfall forces many Maasai people in Longido, Tanzania to dig for ground water when the community taps run dry. Maasai women living in the region must walk up to
5 kilometers
every day to dig for water that may be buried up to 5 feet below sand.
This ground water is unclean and host to many
waterborne diseases
. This water contains run off from grazing pastures and carries contaminants and bacteria.
6%
of total deaths across Tanzania are attributed to diarrhea waterborne illnesses. 
40%
of those affected are children under the age of
5
.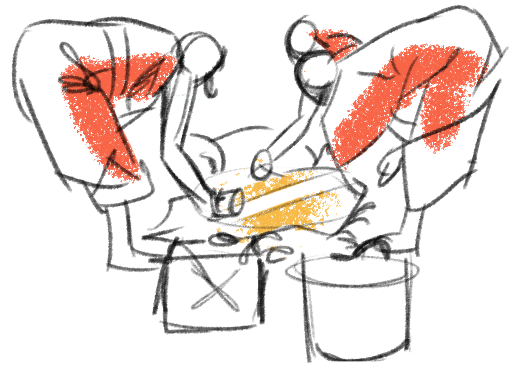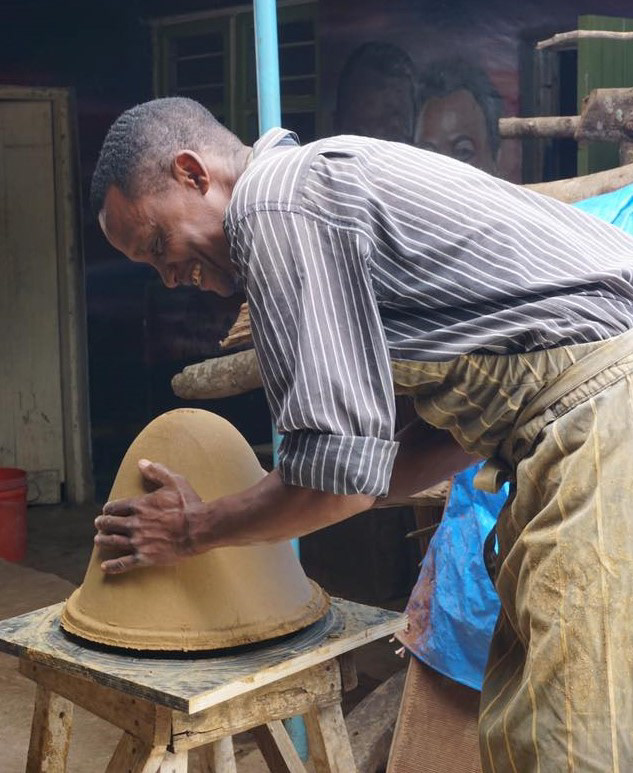 SA
FE WAT

ER C

ER
AMICS OF EAST AFRICA
SWCEA has been producing ceramic filters for Maasai communities for 8 years. of bacteria gets filtered by the pores of the ceramic These filters are too expensive for the Maasai at a price point of $50 USD due to their labour intensive production process and high 20% failure rate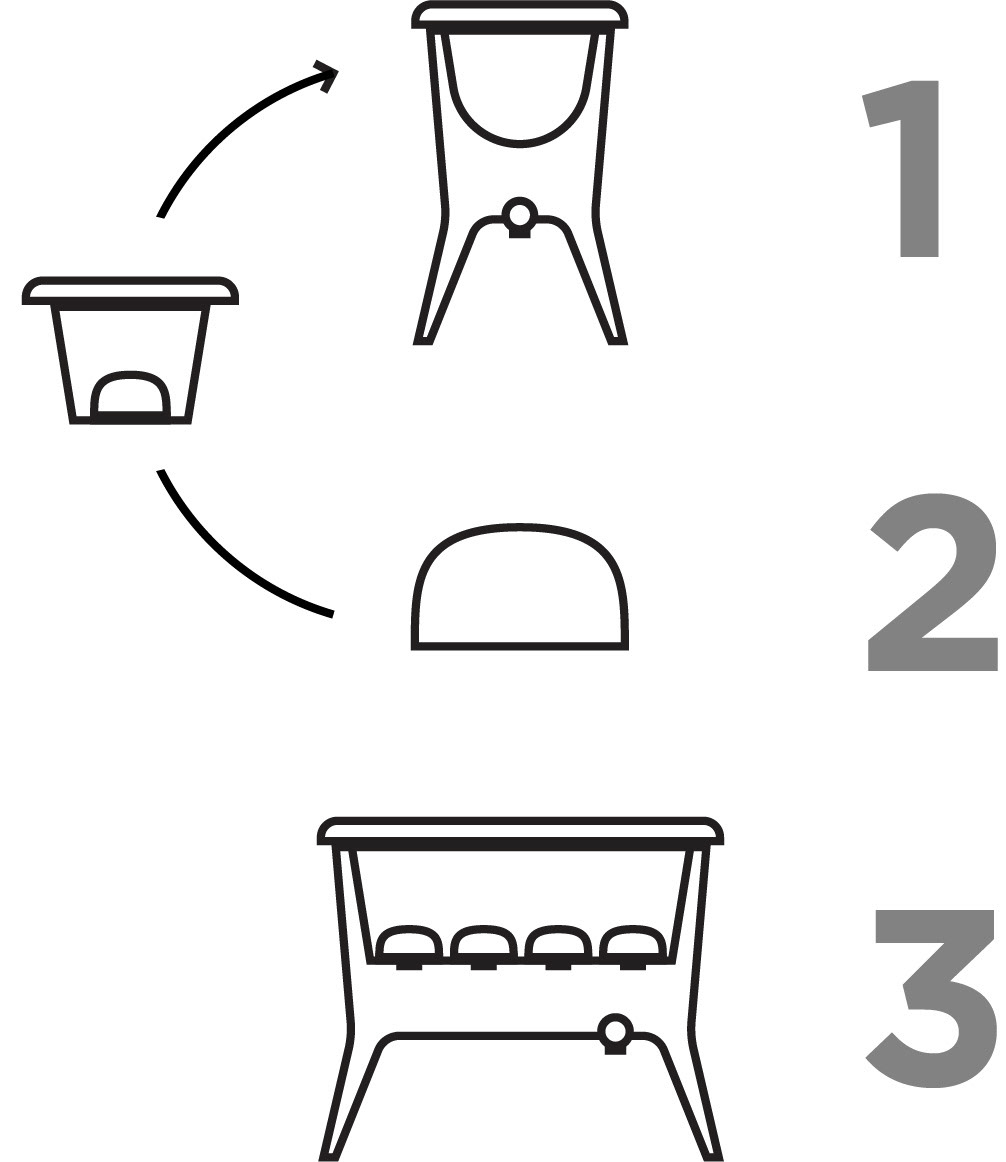 THE DESIGN OPPORTUNITY
Environmental Engineering PhD candidate Robbie Venis, a partner with SWCEA, approached our design studio to consider ways to improve efficiencies at the factory. After analyzing the product we found that a redesign would make the filters easier and cheaper to produce while being appropriate for use in Maasai communities. This design would be implemented in phases so as to build off the success of each other.
PHASE 1
A cost effective bucket to replace the sourced one and improve ergonomics
PHASE 2
A modular filter to replace the original which uses less clay and breaks less
PHASE 3
A communal filter that uses multiple of the filter modules that can be used in schools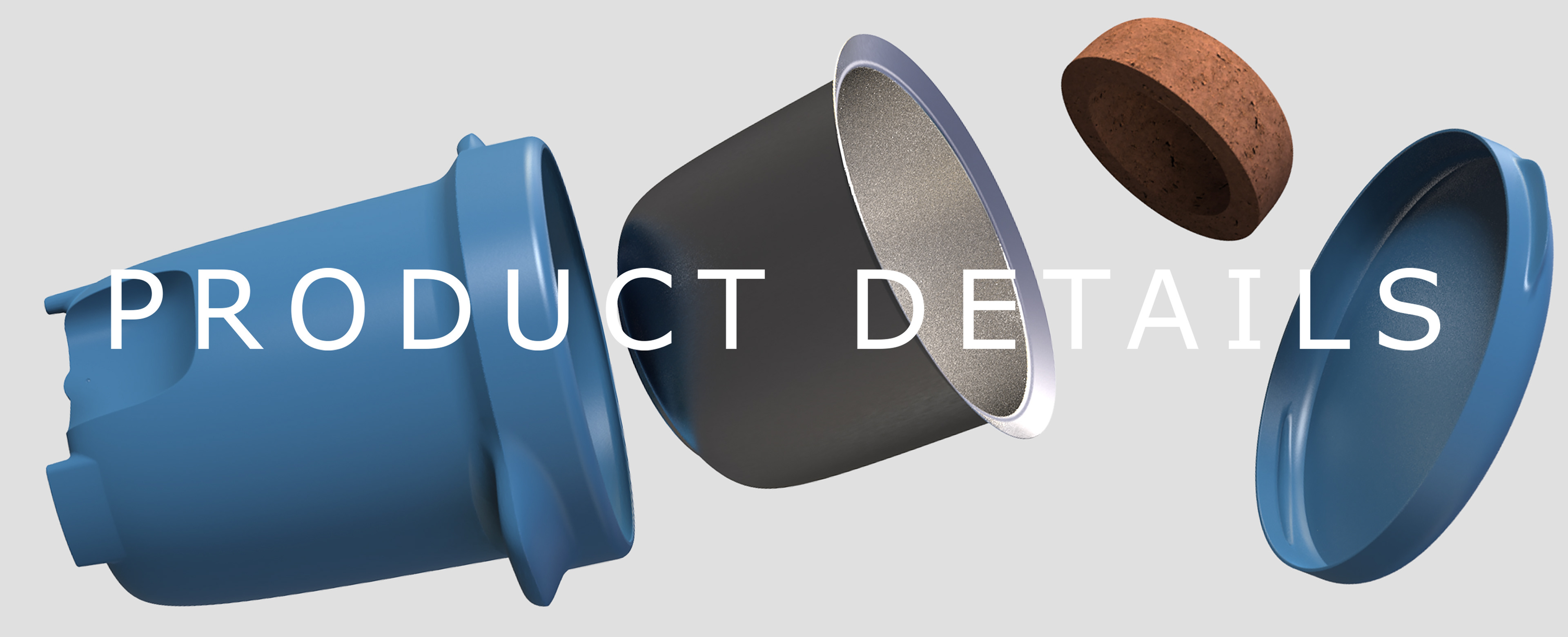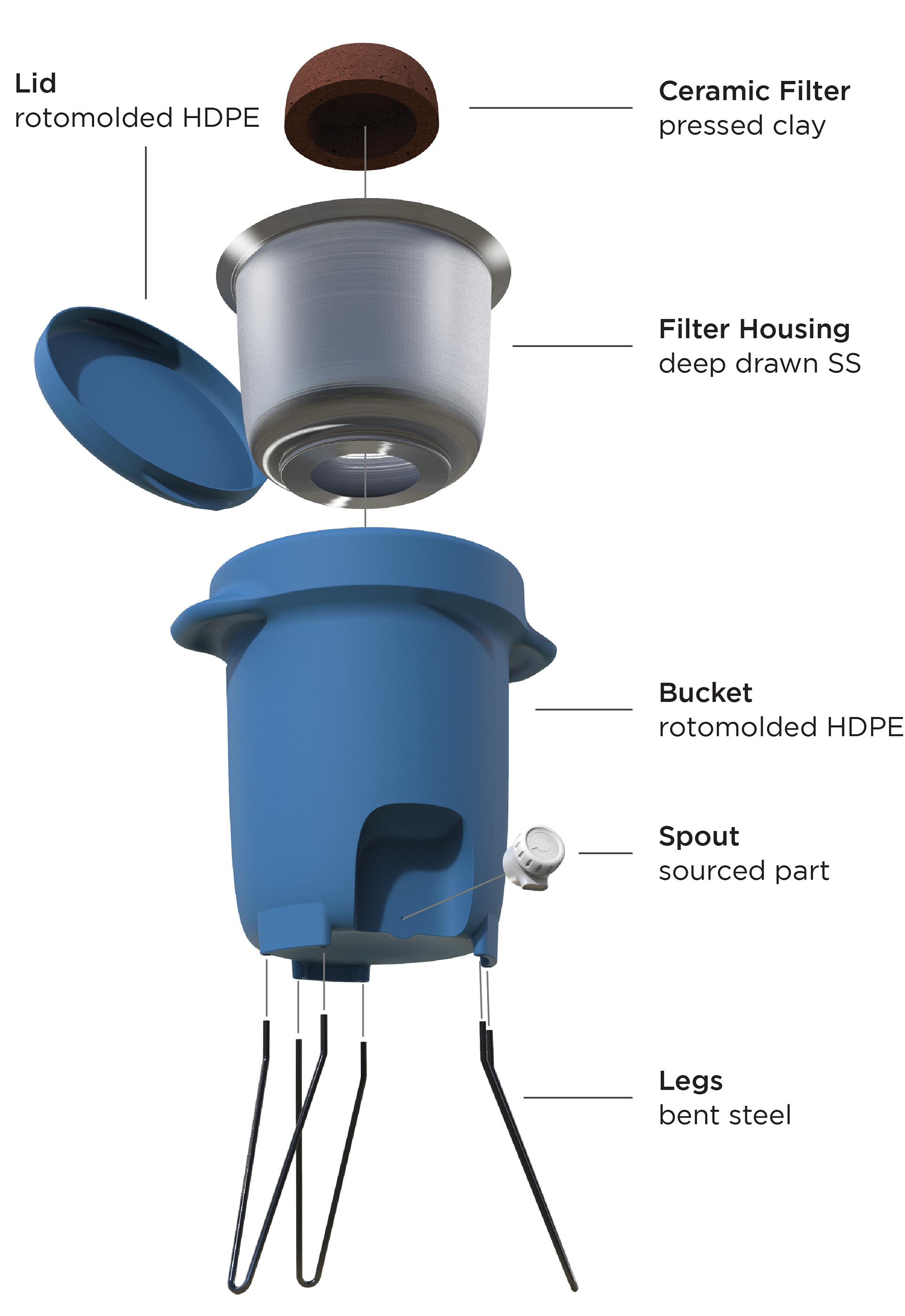 WHY ROTATIONAL MOLDING? 
Rotational Molding was chosen as the manufacturing process for this filter bucket because it both offered low investment cost and unique form giving opportunities. The company makes a production run of about 2,000 to 2,500 filters per year and while this quantity is too low to justify investing in injection mold tooling, it is perfect for rotomolding. 
Rotomolding allows the part to be hollow on the inside with interior overhangs to build comfortable and solid surfaces without ribs. This would not be possible with injection molding. This process allows the geometry to bemuch more approachable to the Maasai as a more familiar object. HDPE or LLDPE are materials of choice for being food safe, strong and easy to mold.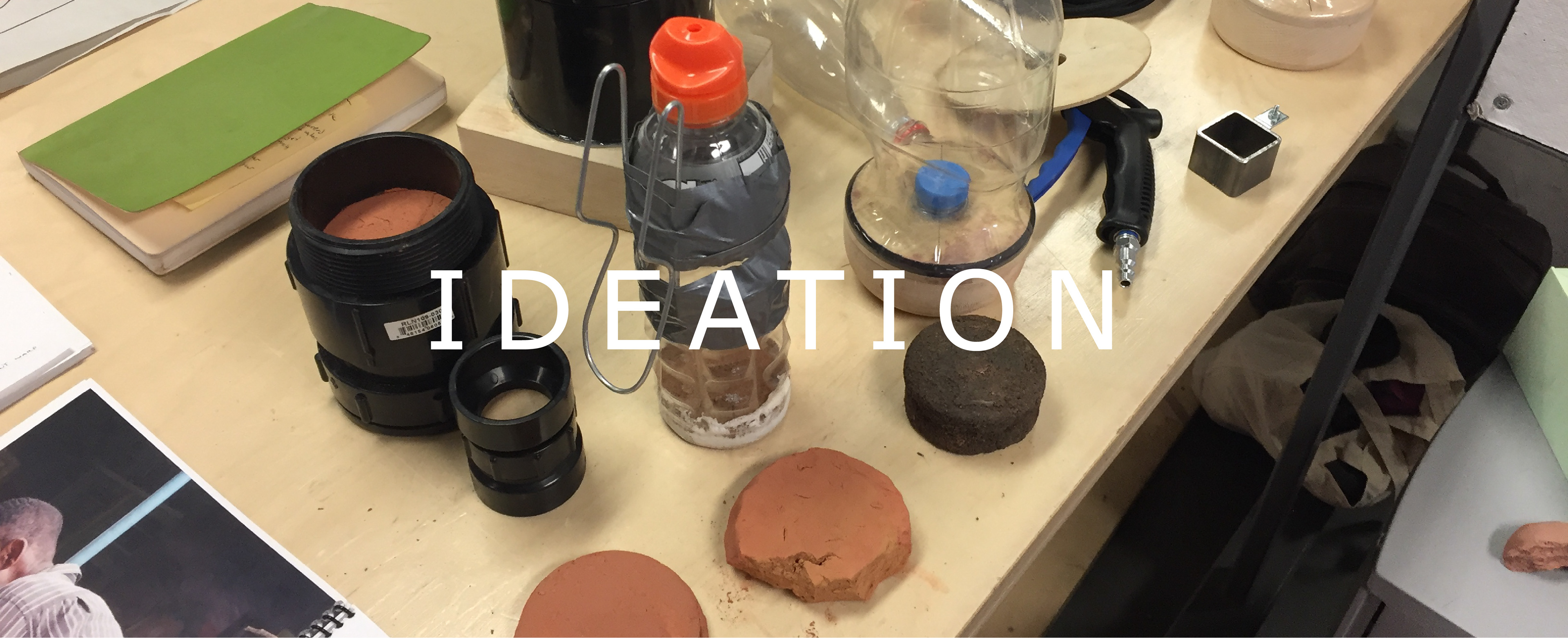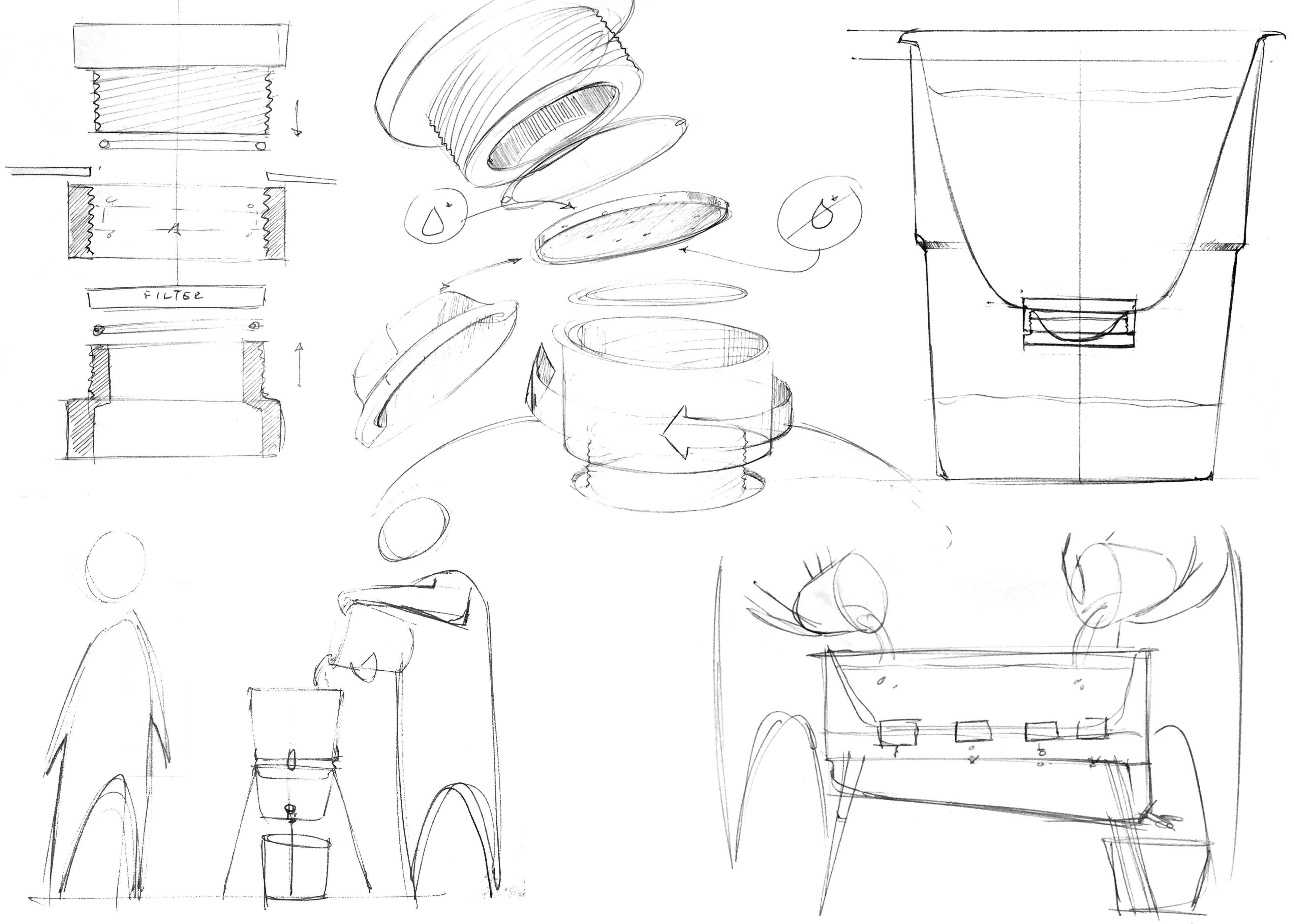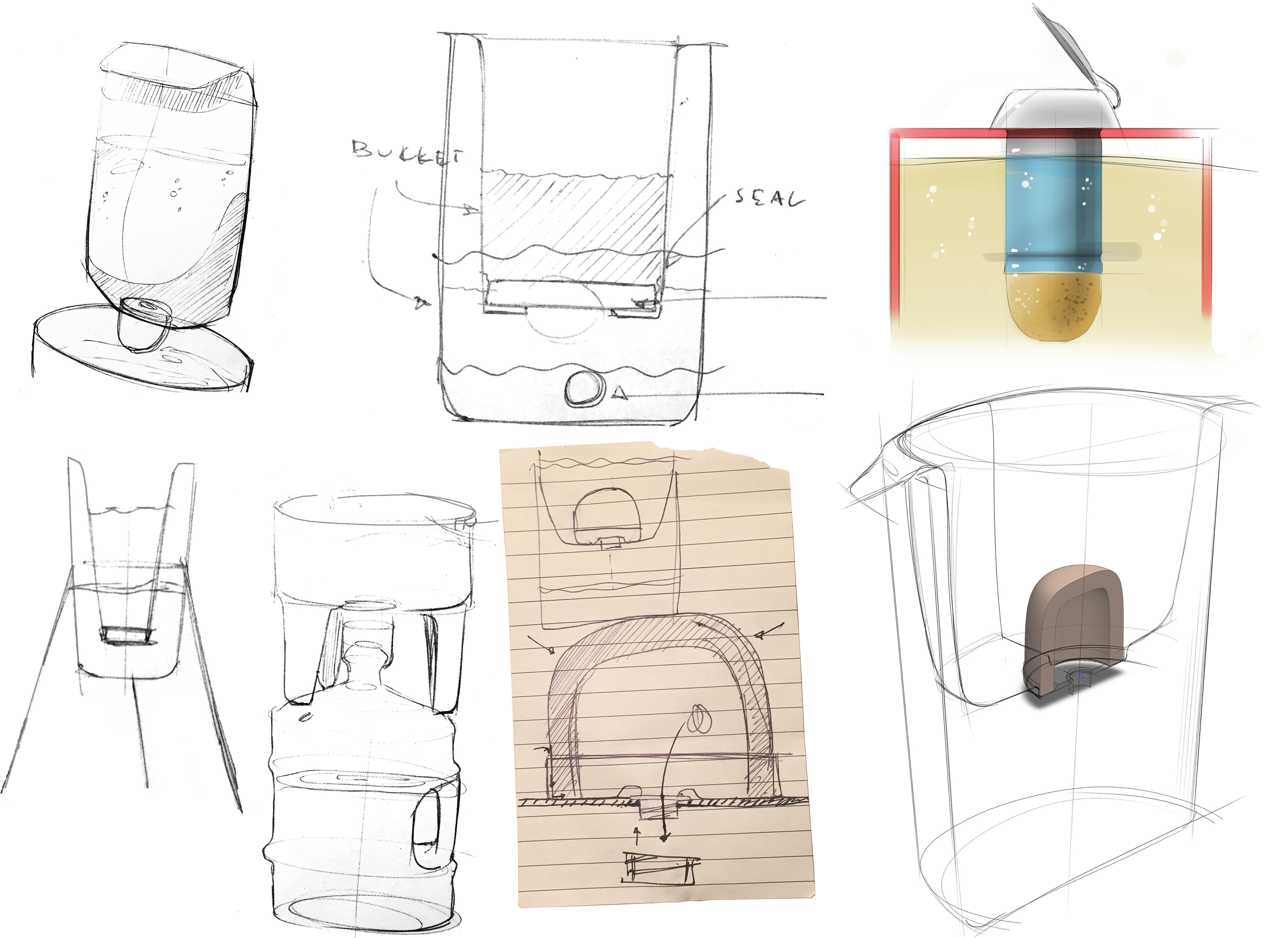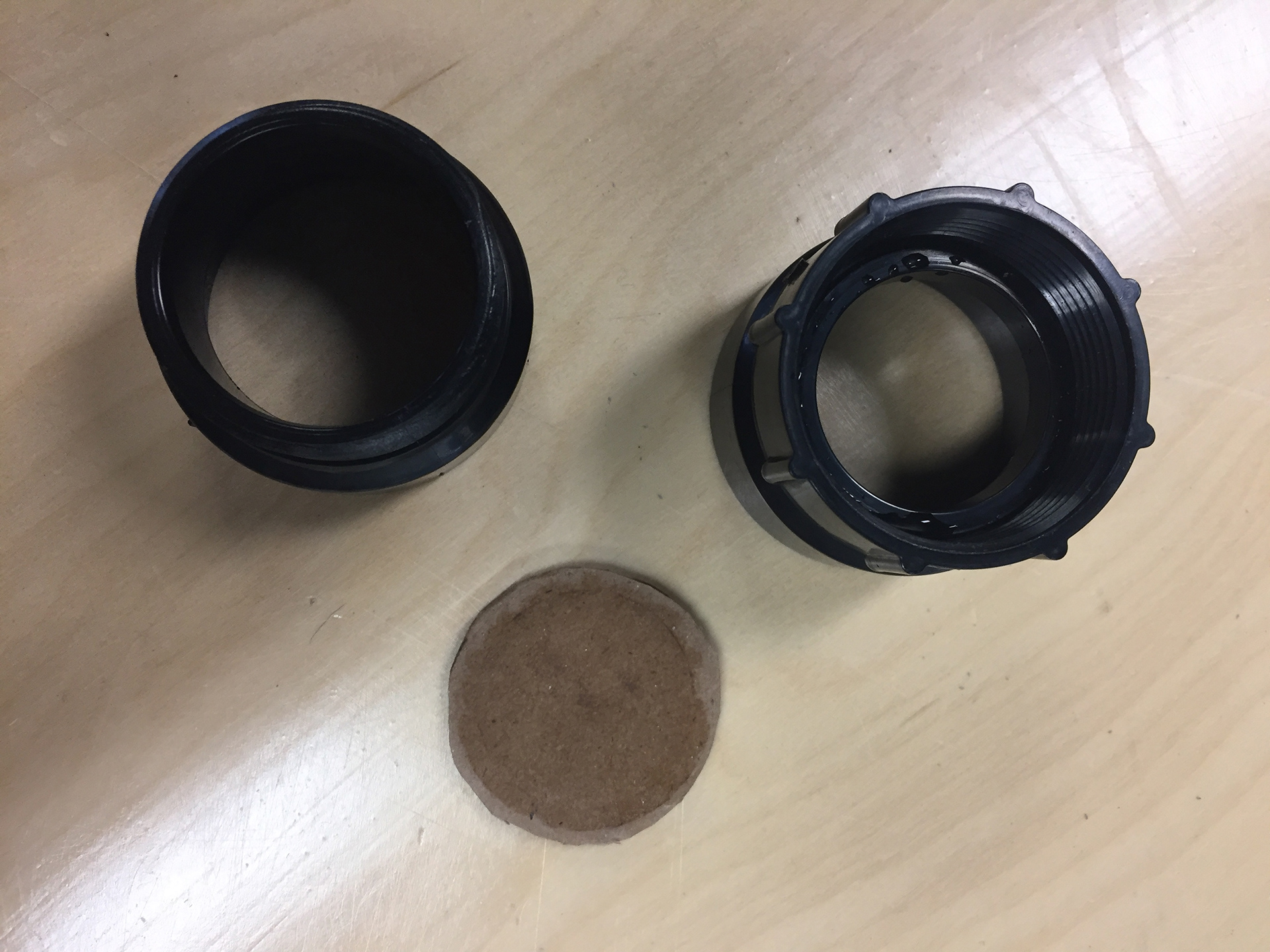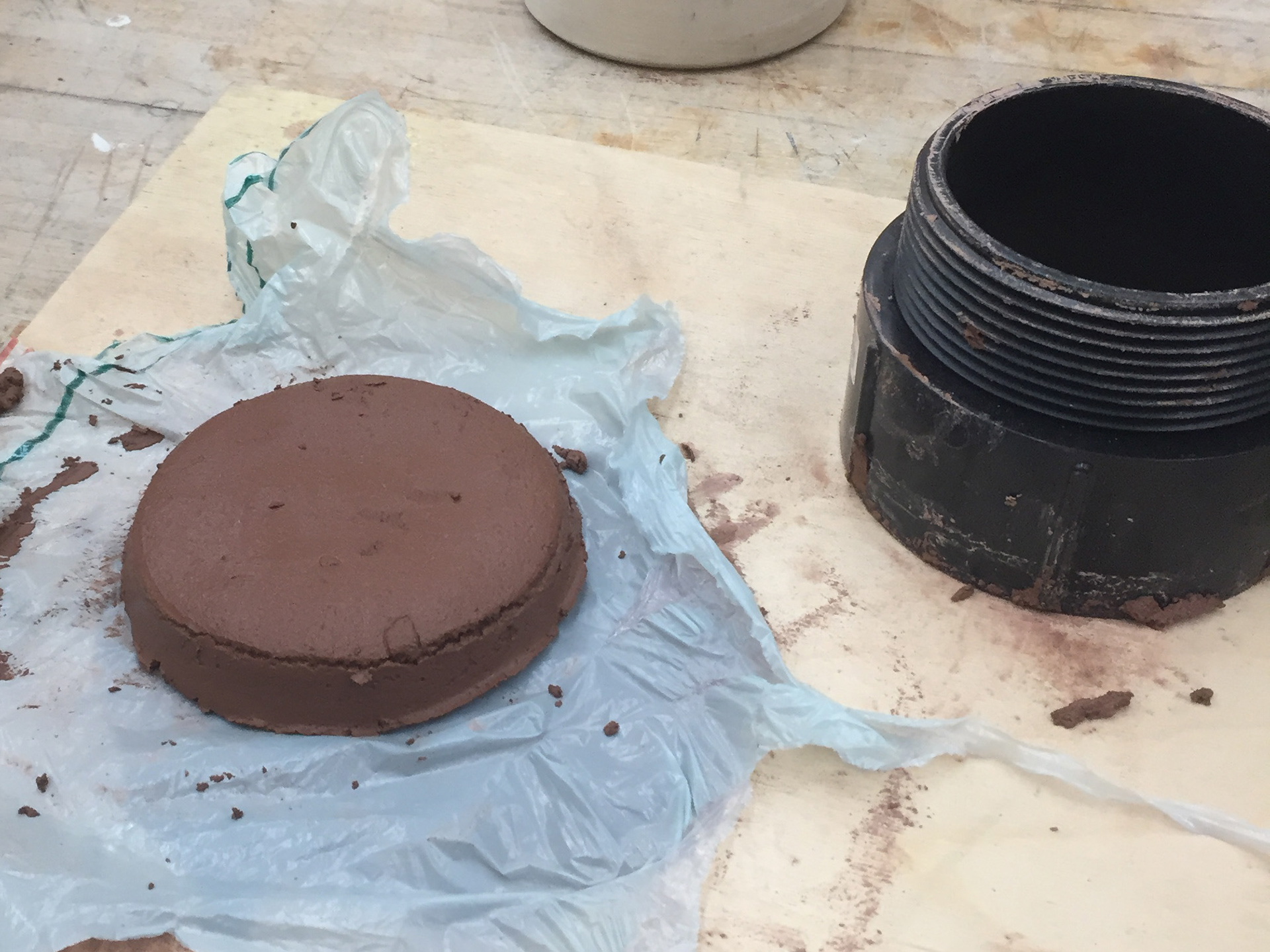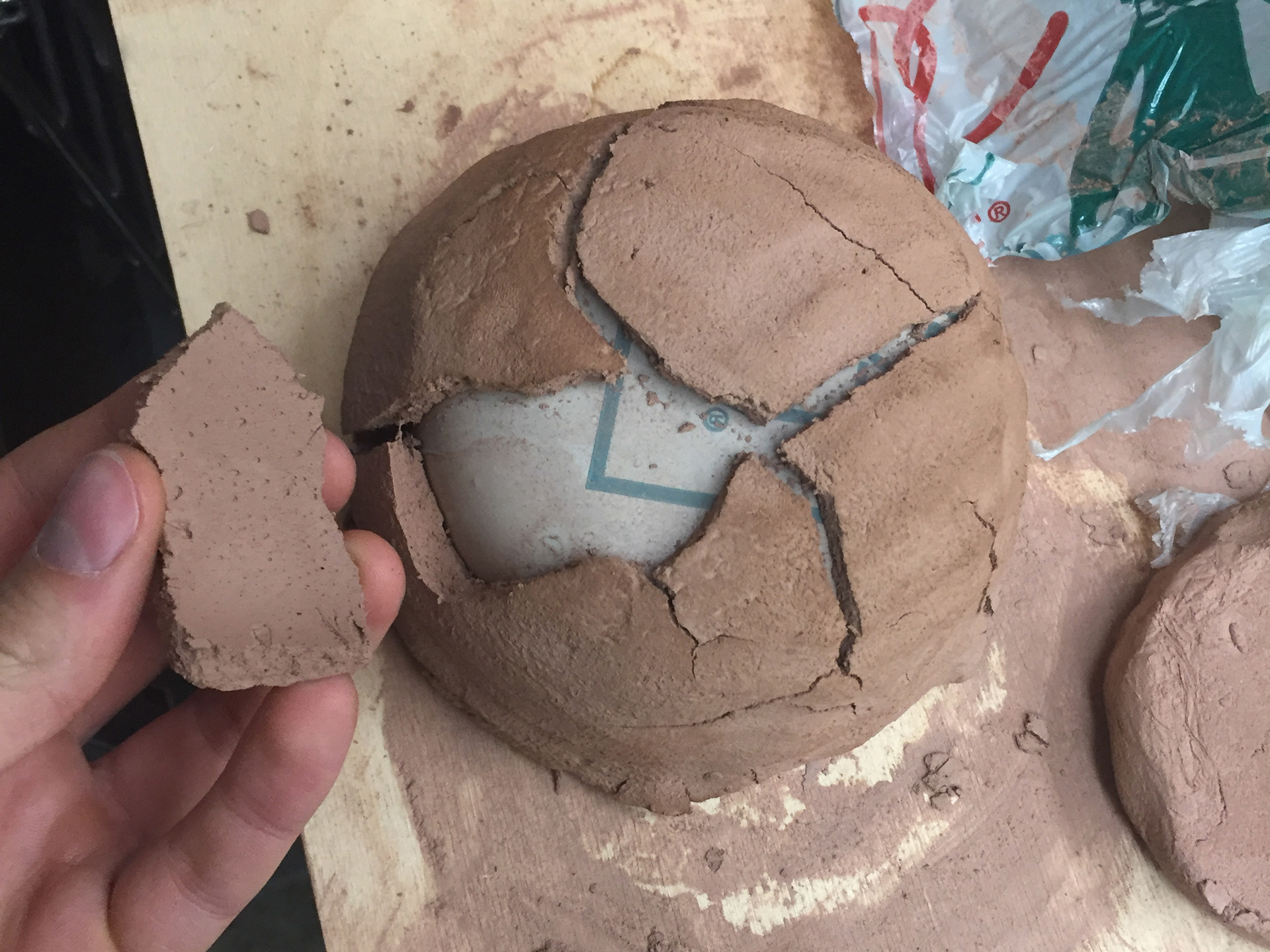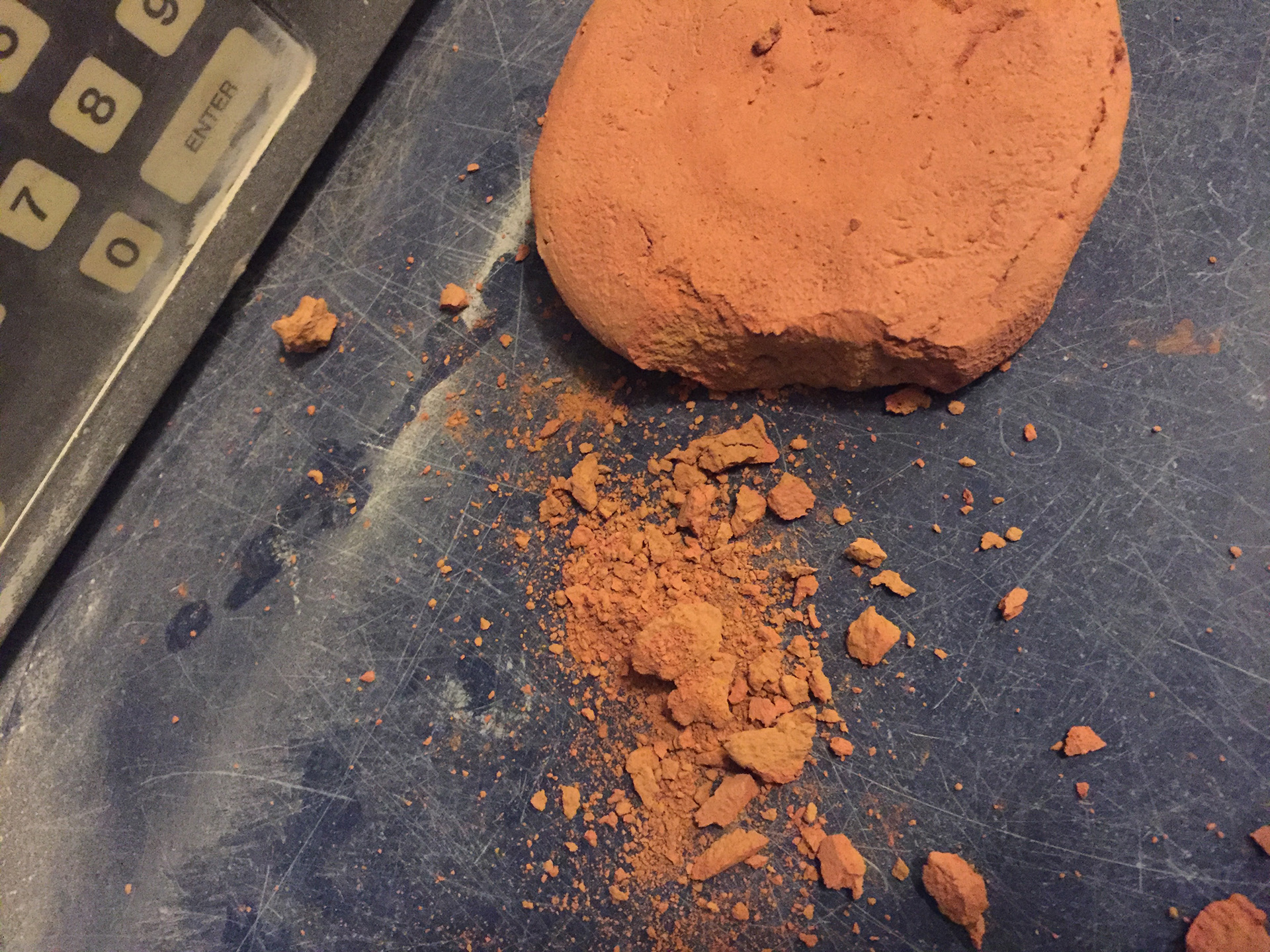 CERAMIC EXPERIMENTATION
I initially started exploring with plumbing fixtures and cardboard to understand basic geometry and to test ideas. Eventually I started to experiment with making clay filter prototypes. I made clay puck filters and attempted dome filters using a mold. 
After talking with Robbie it became apparent that the surface area of the filter had to be much bigger to increase the flow rate. This led me to a domed filter concept that would maximize outer surface area while being as short as possible. The dome takes advantage of its convex surface to maximize surface area and undergo pressure from all angles. I have been unsuccessful in creating a working filter but now have a greater appreciation for the conditions under which they are made.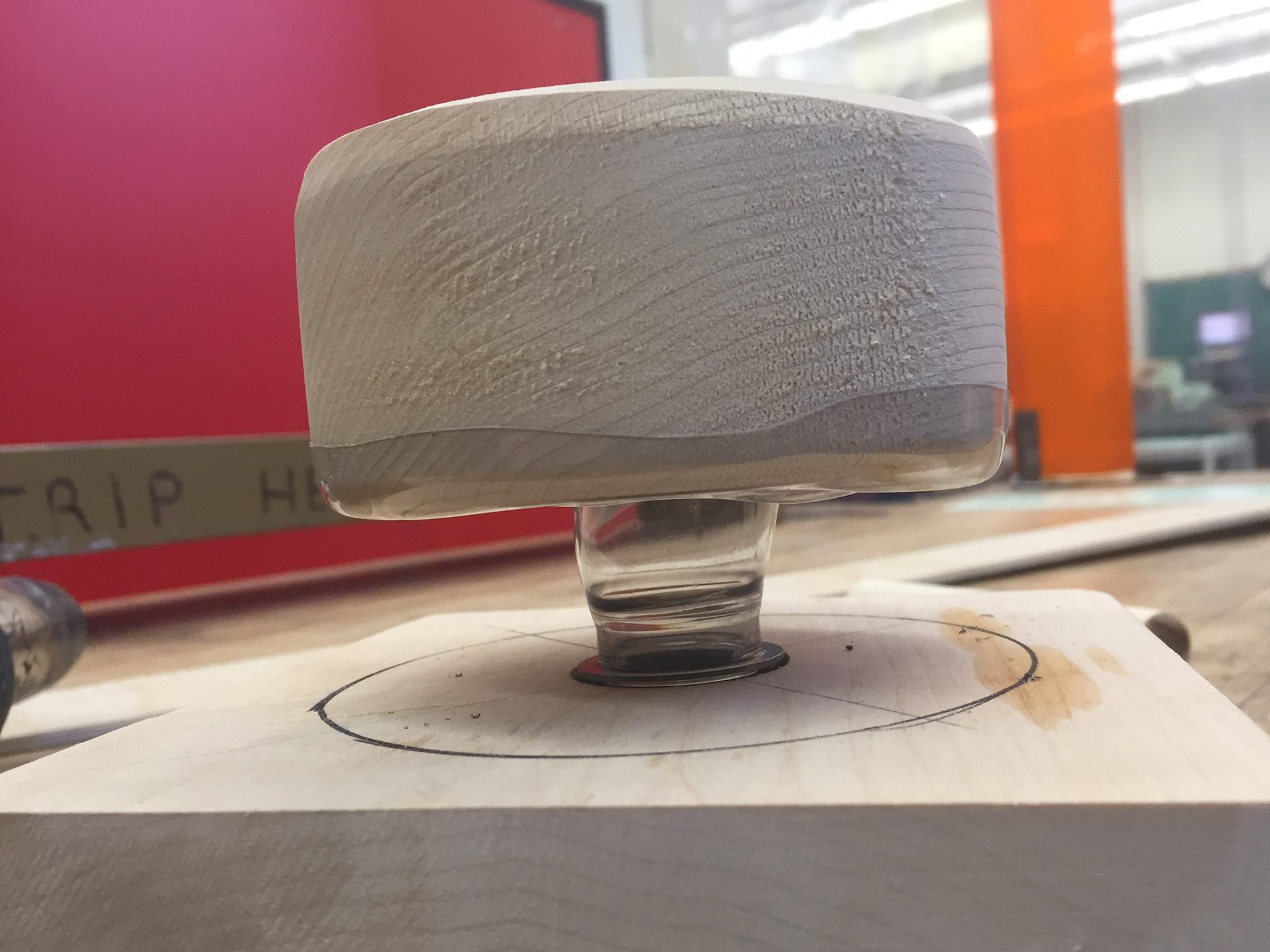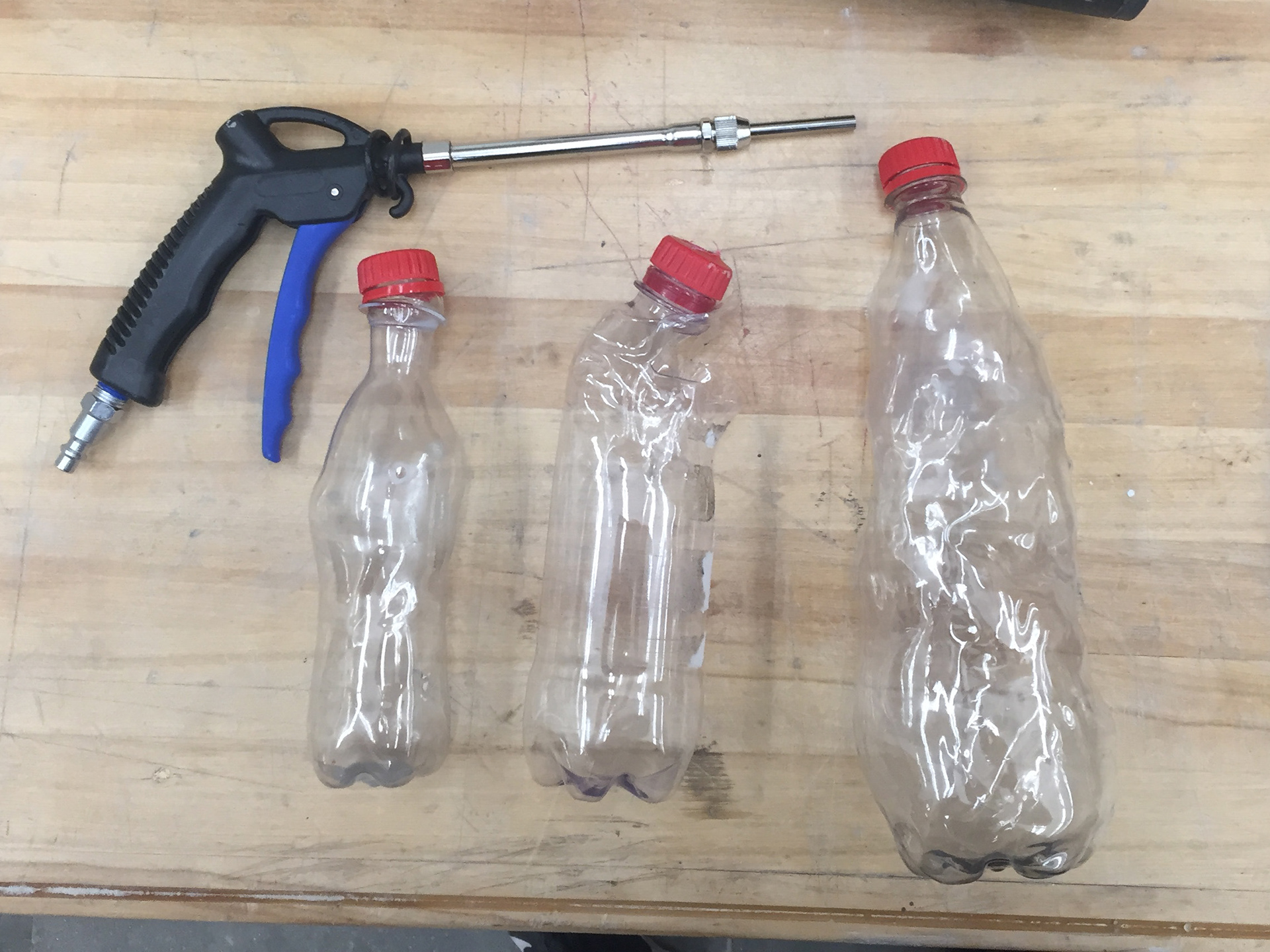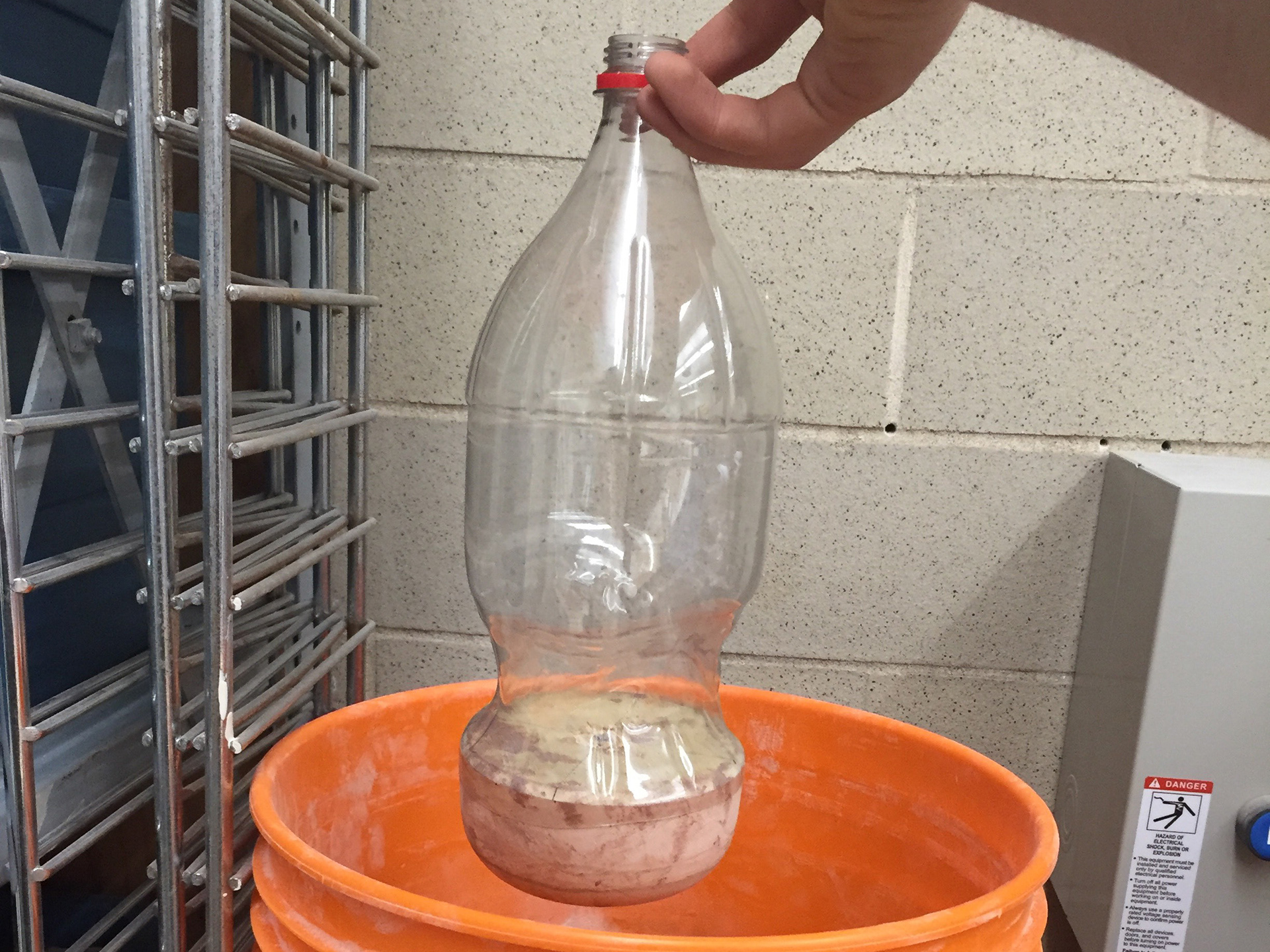 BLOW MOLDING EXPERIMENTATION
Plastic bottle waste in Tanzania is a large issue that accounts for much of the pollution in Longido. I experimented with thermo-forming using mandrels and rudimentary blow molding techniques to shape the bottles into a housing. 
Many bottles popped or leaked through my testing and none were formed properly. This might be due to repeated stretching causing the amorphous plastic to gain crystallinity and turn ridgid. This experimentation caused me to think about the principles of filtration differently and led me to a personal filter concept which I brought to Tanzania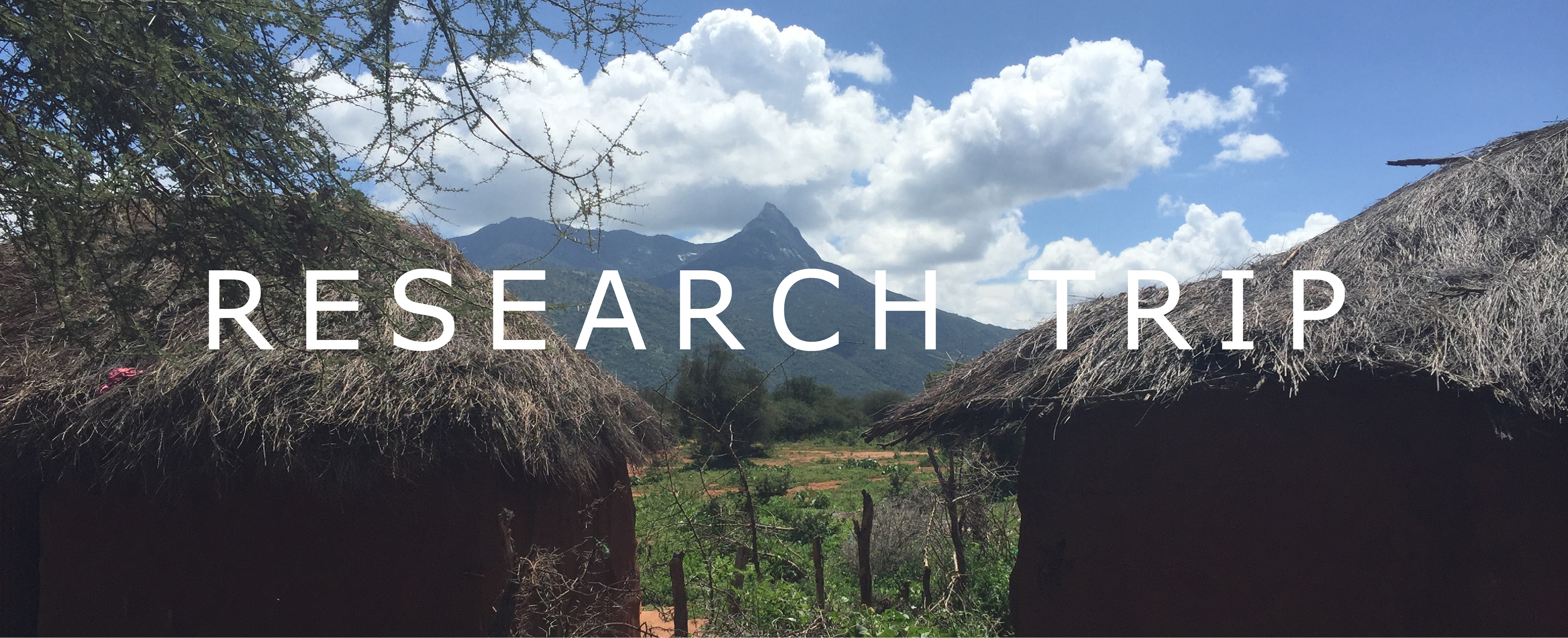 CONTEXT
After gathering second hand research and prototyping over the course of the first semester I travelled to Longido, Tanzania with 8 other designers and 11 business students. The reason for our travel was to work with local Maasai to learn about their needs and develop the product through a process of co design. I was partnered with 2 business students who helped me with research, interviews and the business research for my project. 
In Longido we learned about the local culture and were able to do on site interviews and activities with the Maasai and other local residents. I had the opportunity to visit the neighbouring city of Arusha with my partners to meet at the SWCEA factory and talk to the owner, Kim, and his education staff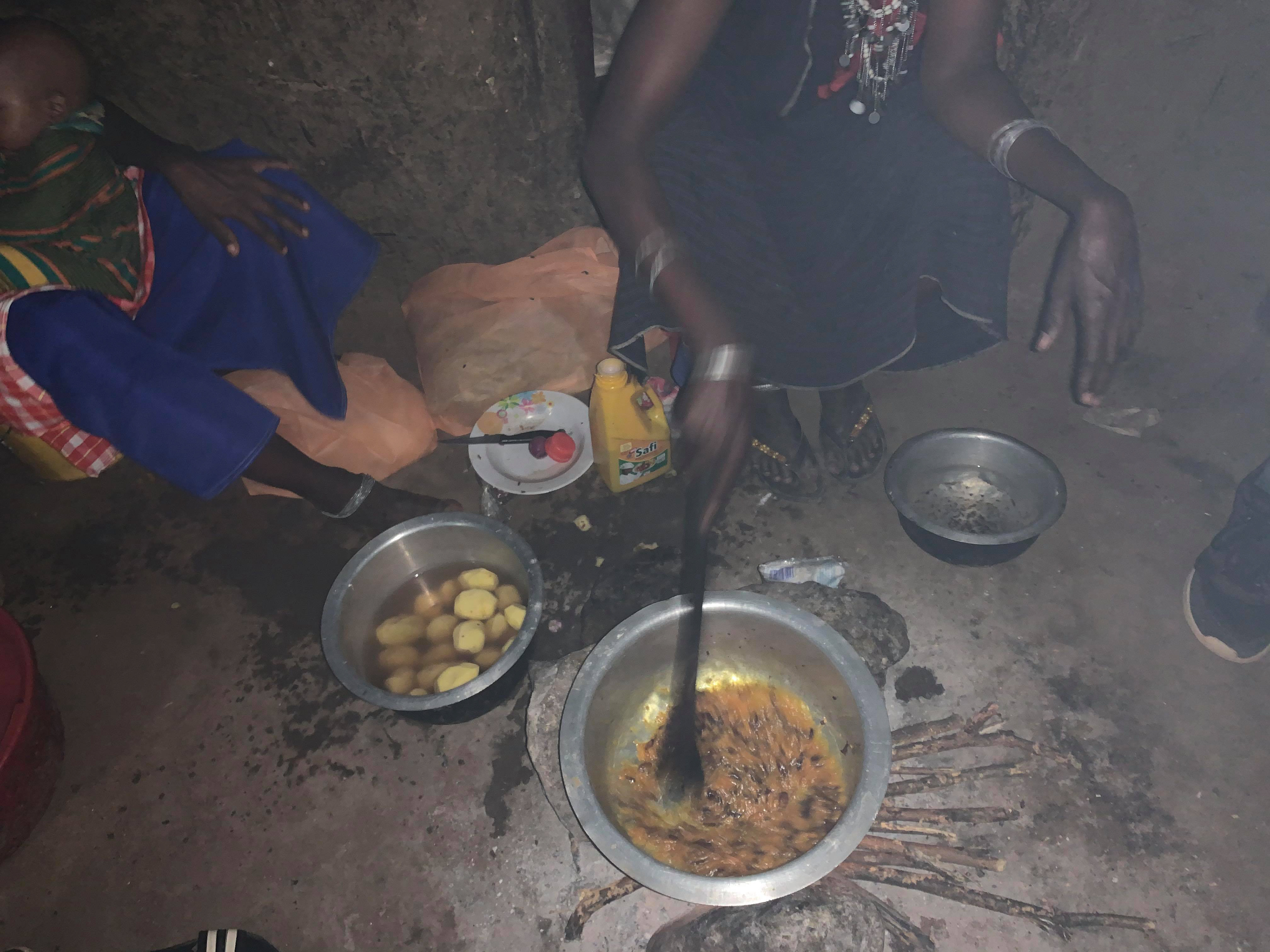 INTERVIEWS
I had the opportunity to conduct informal interviews with local Maasai women who owned the filters. The most important insight from our research was that we needed to make the volume of the filter and bucket bigger. Sharing is an important aspect of the culture which the filter must serve to facilitate for a family of up to 8. The women using the old filter design also wished it were more stable, less likely to break, and easier to use
Remembering to clean the filter every 3 weeks is difficult in Maasai culture so a cleaning reminder was suggested. Concerns over a communal filter were that responsibility to care for and maintain the filter would be deferred from everyone in the community without individual ownership.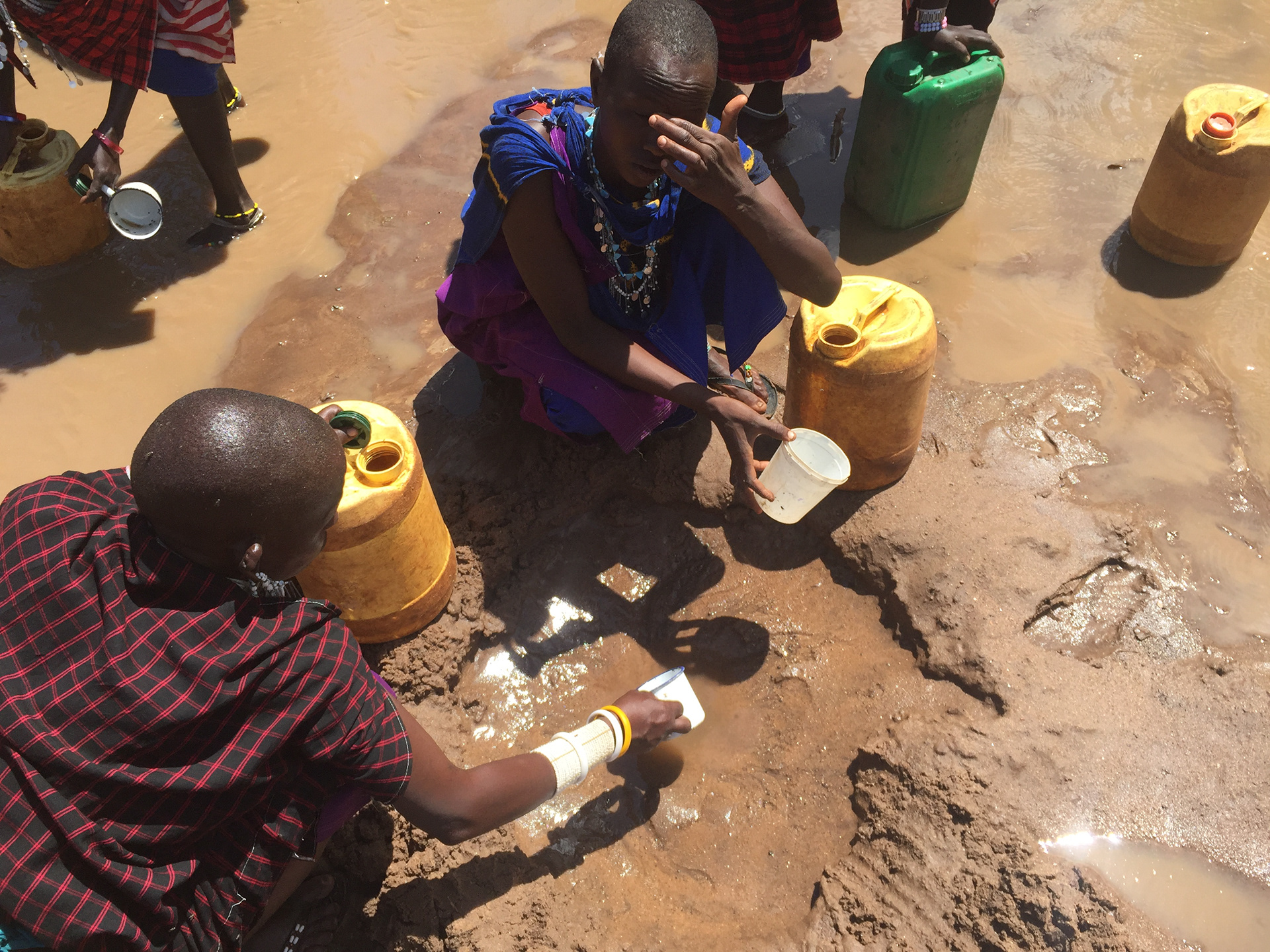 WATER WALK
Our translator Tepeyani led us on a water walk with many women from a nearby boma. There we learned how hard it would be to gather water in the dry period by digging several feet into an empty riverbed and waiting for any moisture to rise. The quality of the surface water is incredibly poor and is a host to many diseases from the livestock that drink from the source. Digging allows the water to be filtered by sand but even still is not safe to drink.
Every day these women walk up to 5 km to dig for water. The river bed we visited had been been the highest in years and most of the year has no surface water at all. The water quality is so poor with such fine particulate that sediment will not separate even after months of sitting.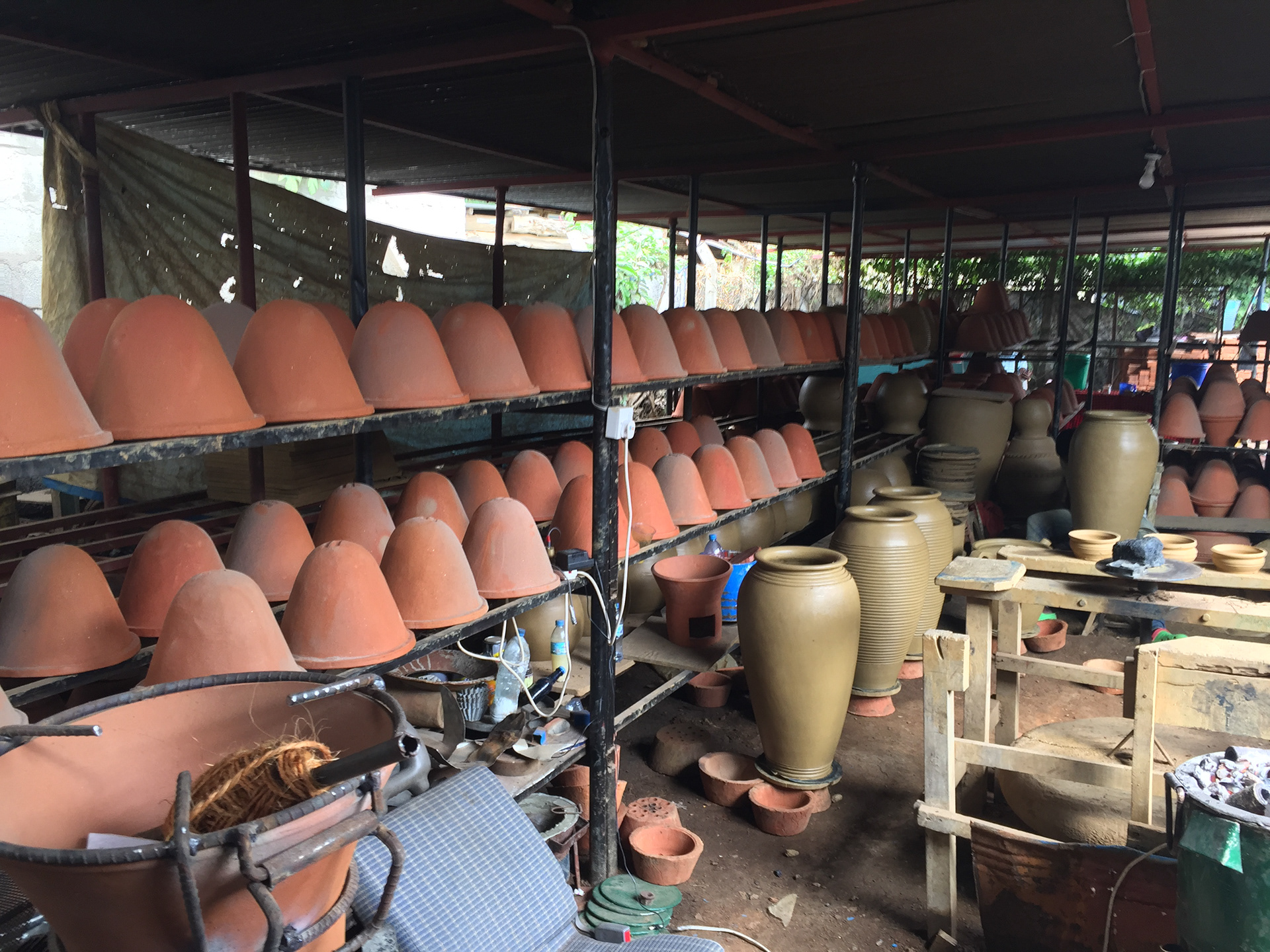 FACTORY VISITS
I conducted 2 factory visits to SWCEA with my business student partners. These visits gave us an understanding of production and the business goals of the company. Ideas and concepts were created with and pitched to the owner, Kim over coffee and chapati.
SWCEA produces about 2,000 filters annually, almost half of which are donated to Maasai communities by tourists and charity organizations. Due to the high price point, they rely primarily on these donations. After the filters are given, SWCEA follows up with the households after a week, a month, 3 months, 6 months and finally a year to ensure that they properly maintain and clean the filters.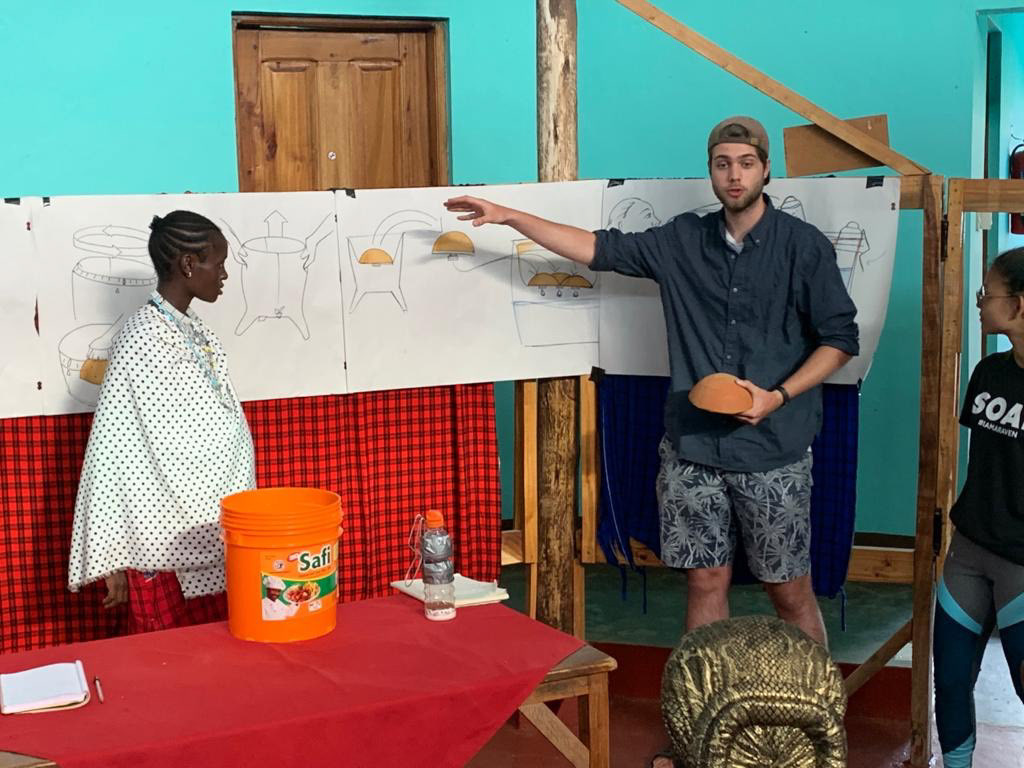 PRESENTATION
A focus group presentation was conducted with a group of local residents and Maasai leaders. Concepts were presented and some feedback was gained to make this product more valuable to the community.
The group was very interested in the new features of the family filter and would reasonably pay up to $20-25 USD for one. The personal water bottle was considered to be useful for small households but many preferred the family filter. The communal filter was considered a good idea for schools but no one could see it being practically maintained in Maasai bomas or the village in Longido.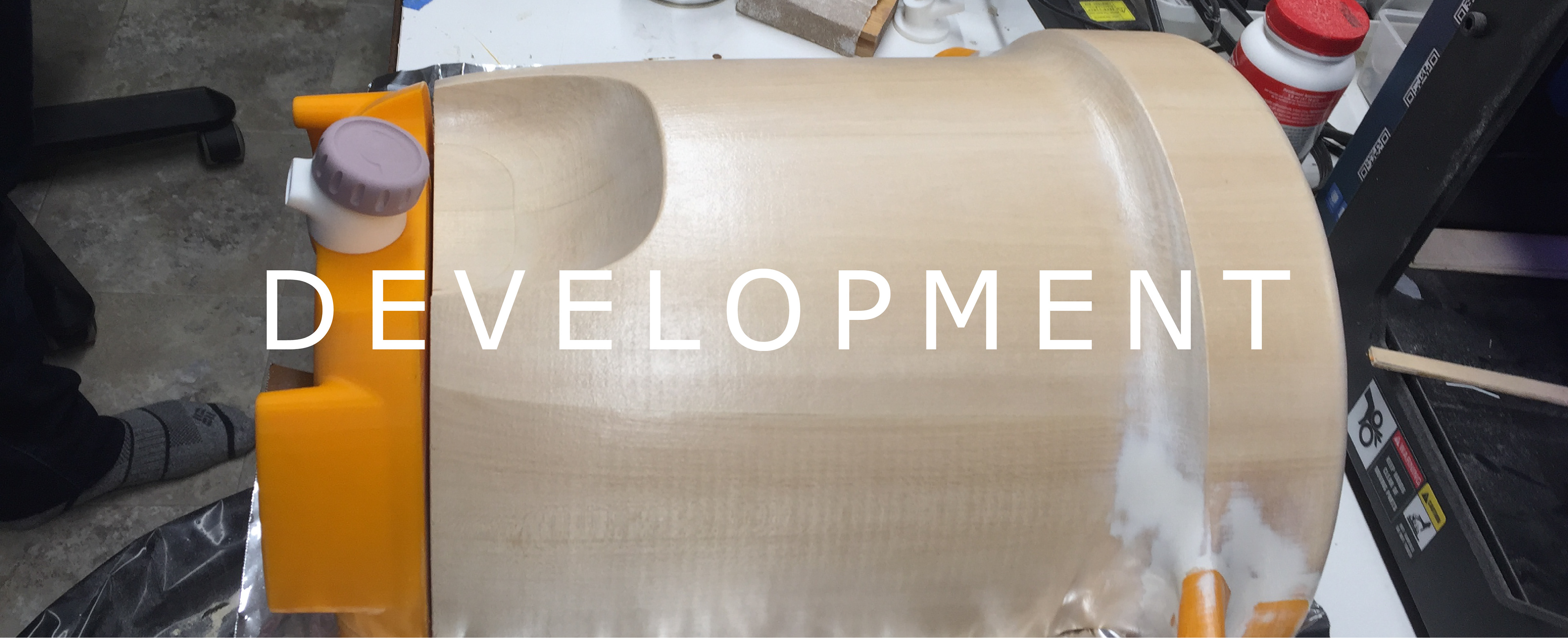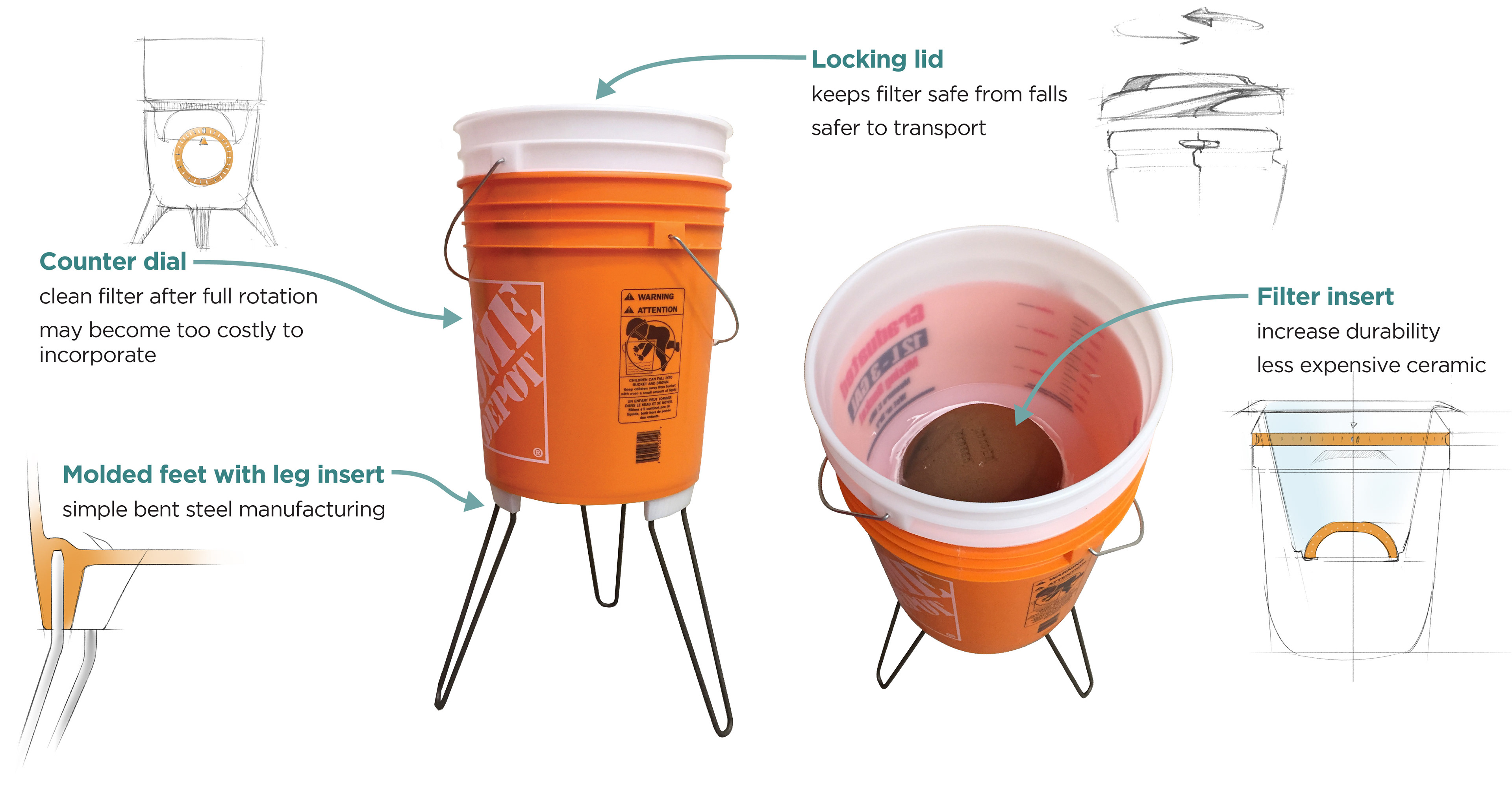 FULL SCALE PROTOTYPE
A basic full scale prototype was made to test features and ergonomics. The leg insert and nested filter was tested and improved upon with this prototype.
Design concepts were developed and discussed with partners and stakeholders to see if they would work well in the context of Longido. Some concepts were abandoned due to their cost, perception and added complexity.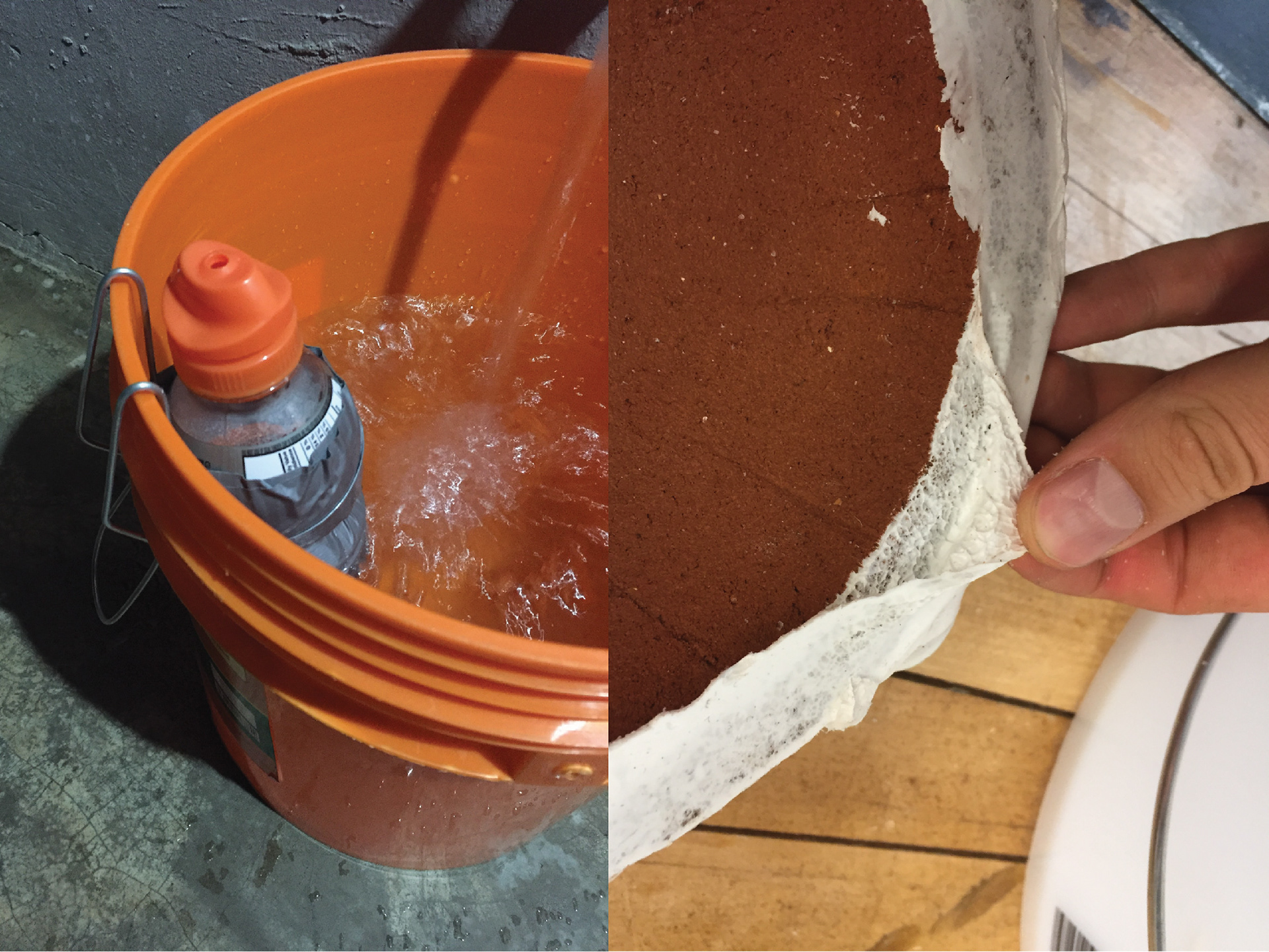 SILICONE BOND TEST
Ceramic filters were sealed to different plastics to establish how well they would bond. I learned that Silicone adheres to stainless steel but not HDPE. This meant that I could not rotomold the filter insert as part of the HDPE bucket, meaning it would have to be a deep drawn stainless steel part into which the filter would adhere to.
HANDLE TESTING
Ergonomic handle testing was conducted using models sculpted from clay. Once a comfortable grip was found, the models were 3D scanned and the chosen for was built into the CAD geometry. A final iteration was printed and minor tweaks were made in clay to refine the shape for a secure grip on the bucket.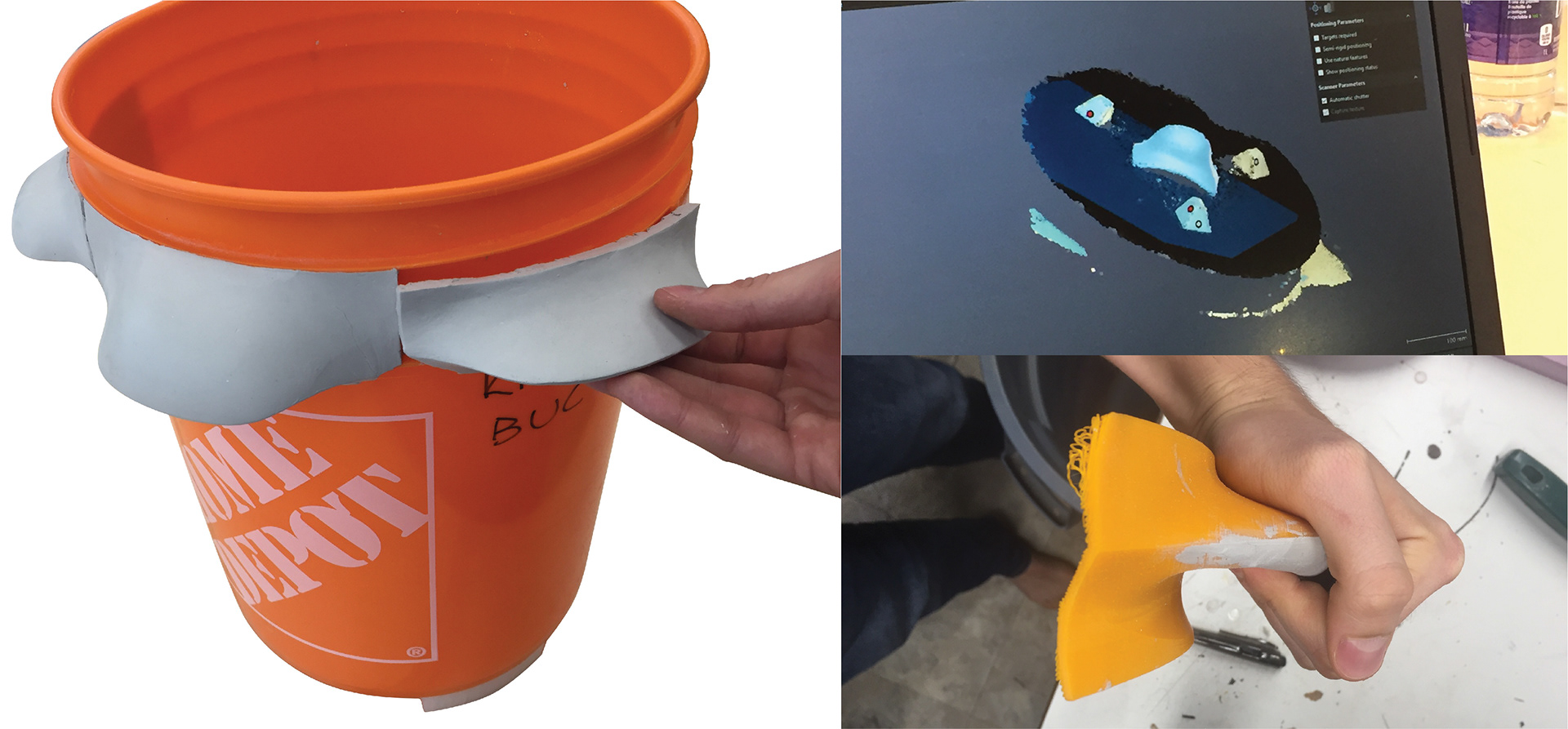 FINAL DESIGN
The final form development of the bucket was investigated through sketching, CAD and model making. Small scale models were printed to analyze the aesthetics and to see how components would fit together with loose tolerances. Refinement from each model and sketch was added or tweaked in the 3D CAD geometry before the final model was machined.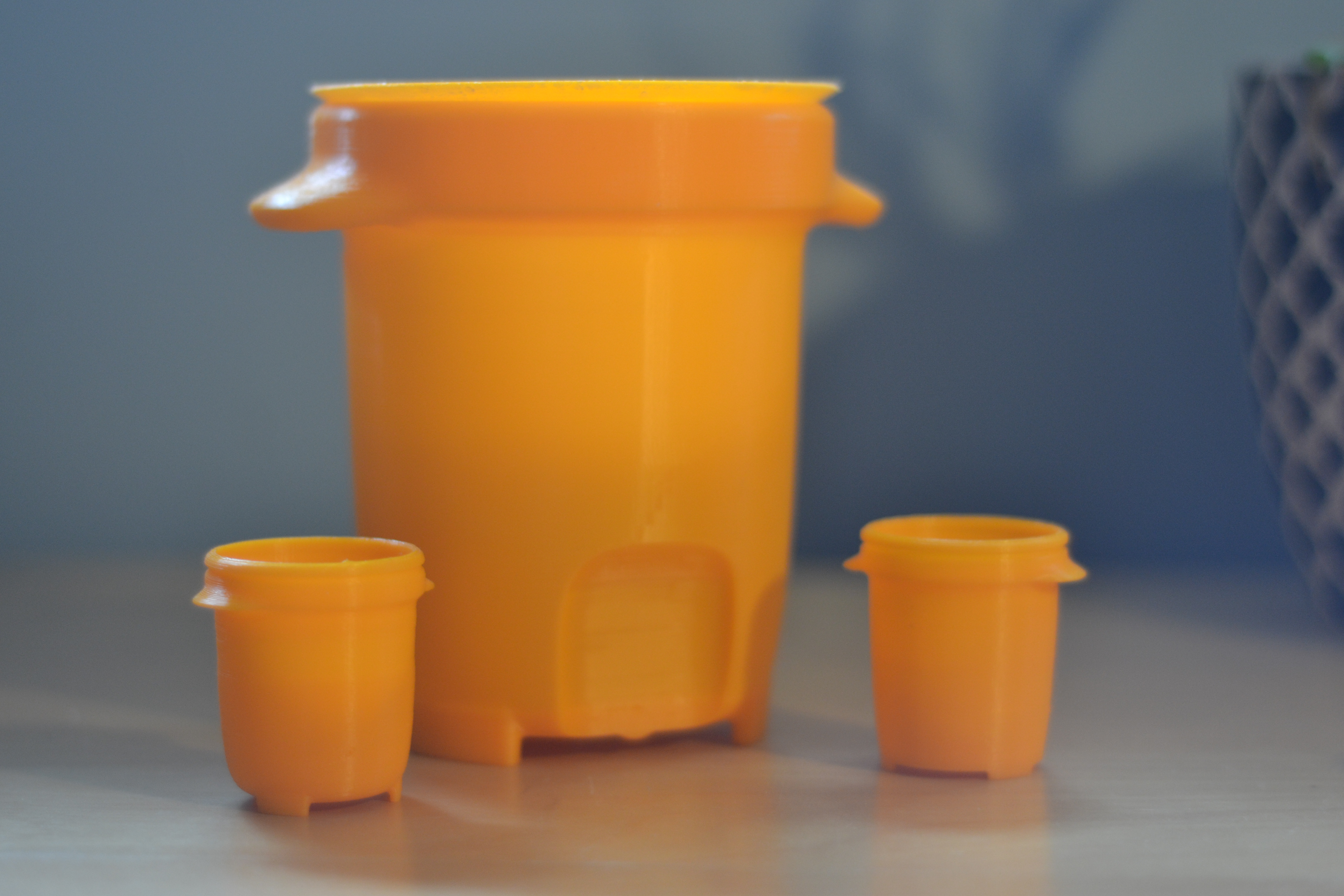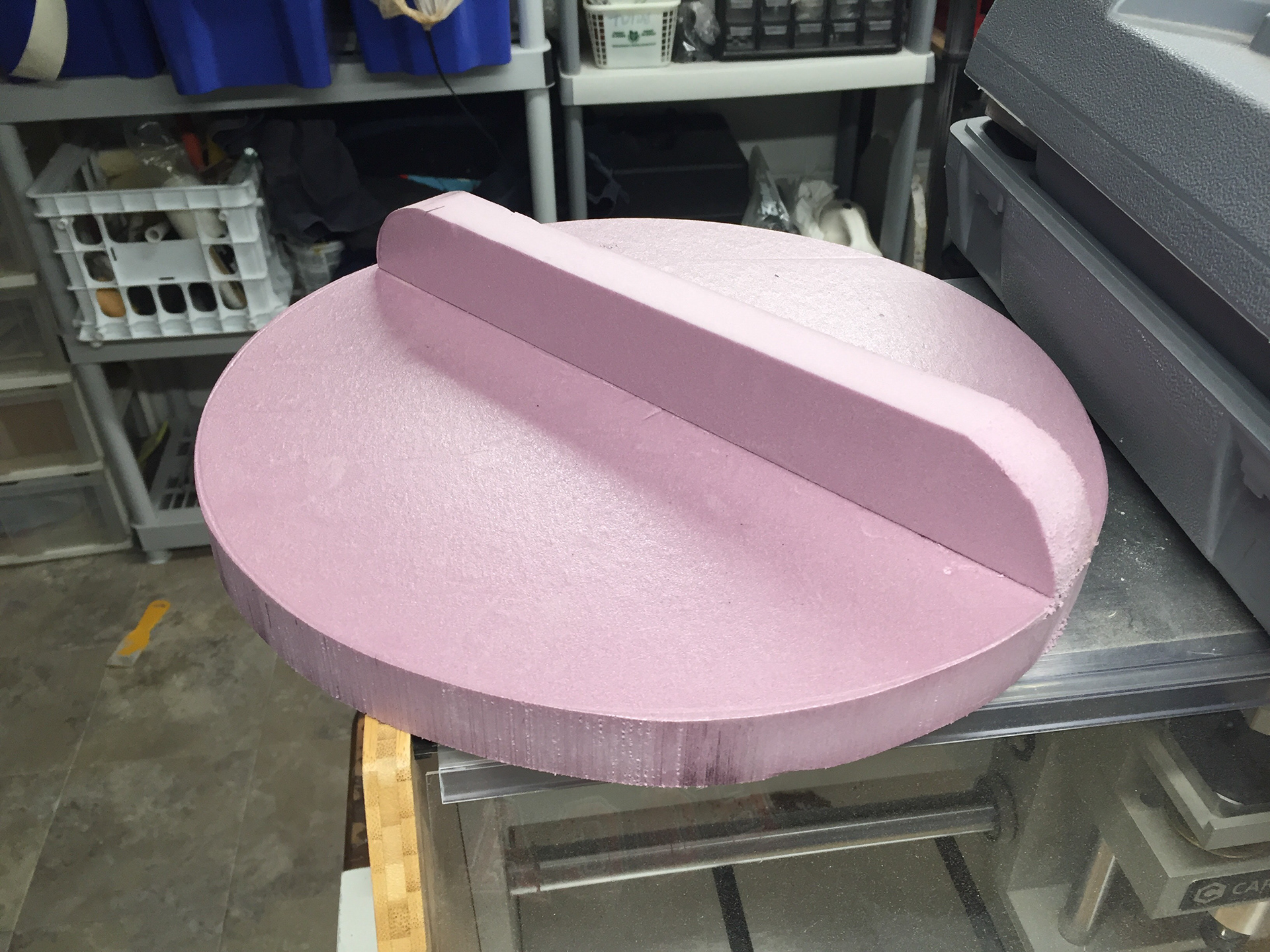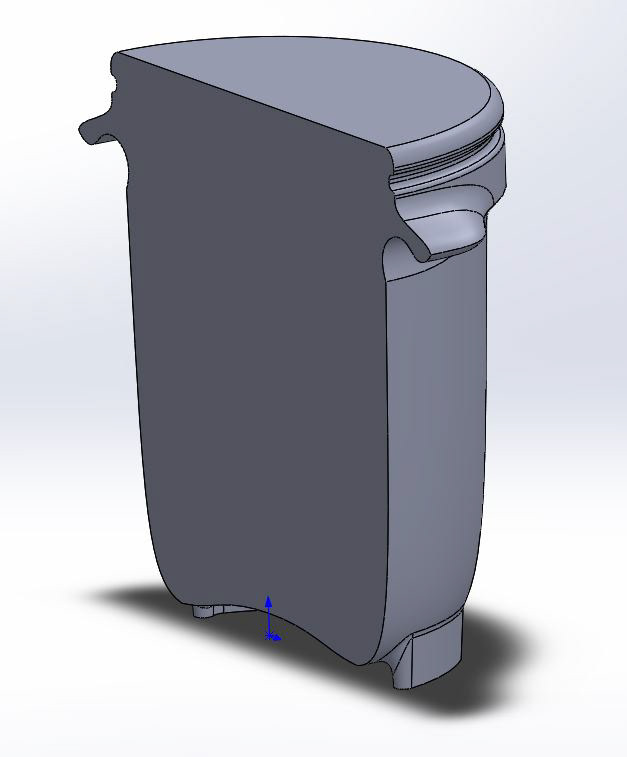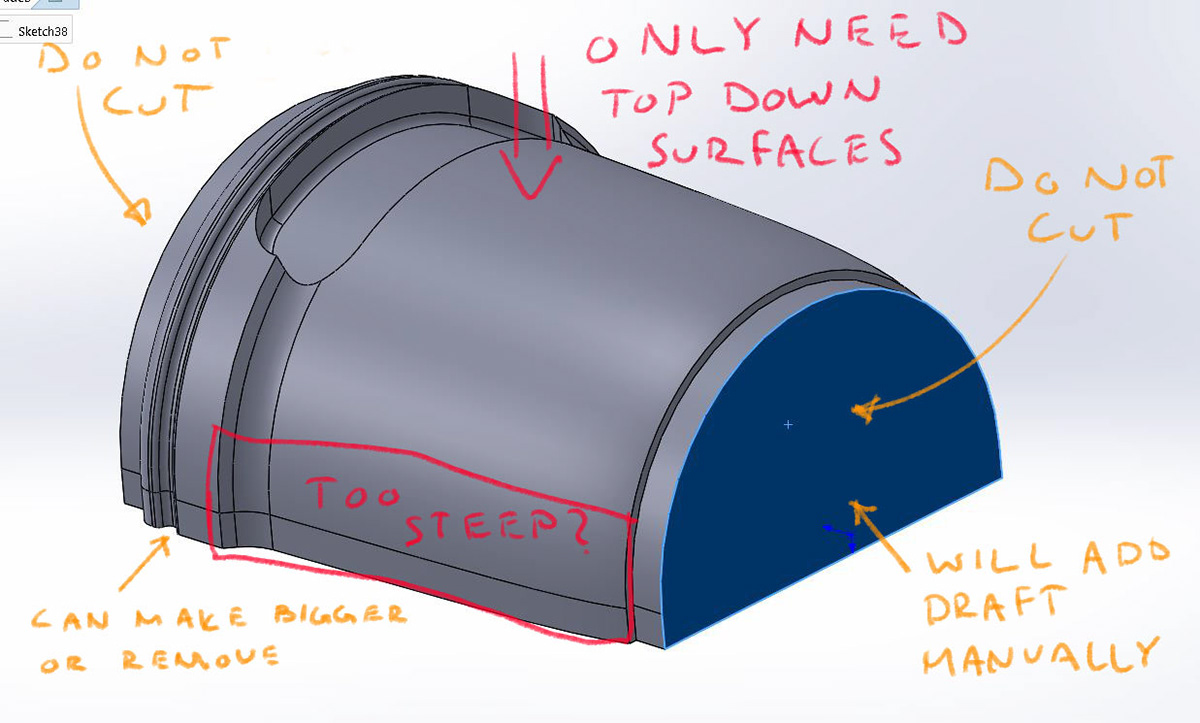 MAKING THE MODEL
The model was constructed amidst the COVID 19 outbreak and coordination between myself and our shop technician was critical to creating it before the university shut down. The model was initially meant to be vacuum formed from a CNC milled buck but after conversation with Paul we decided to make a one sided solid model.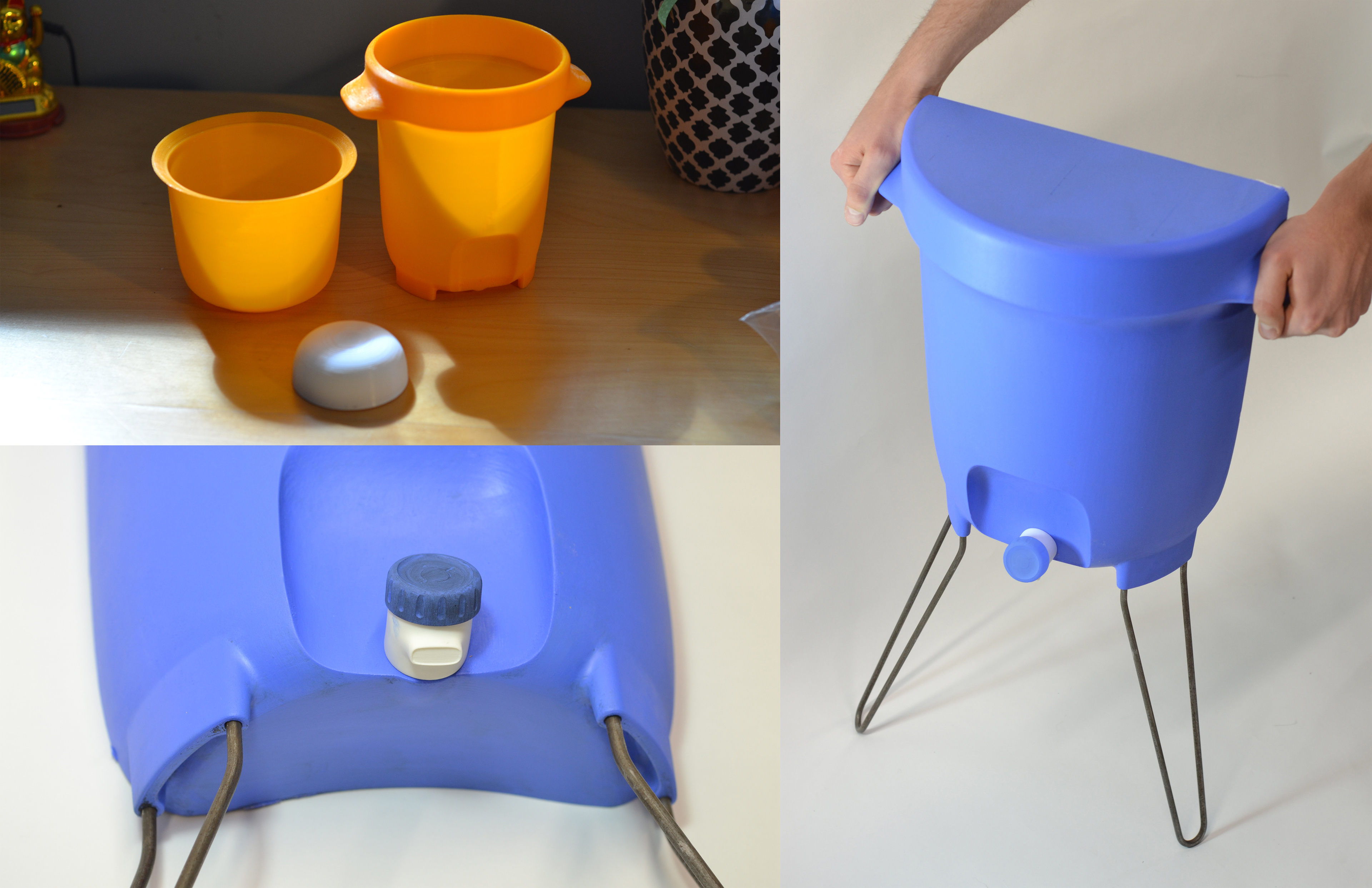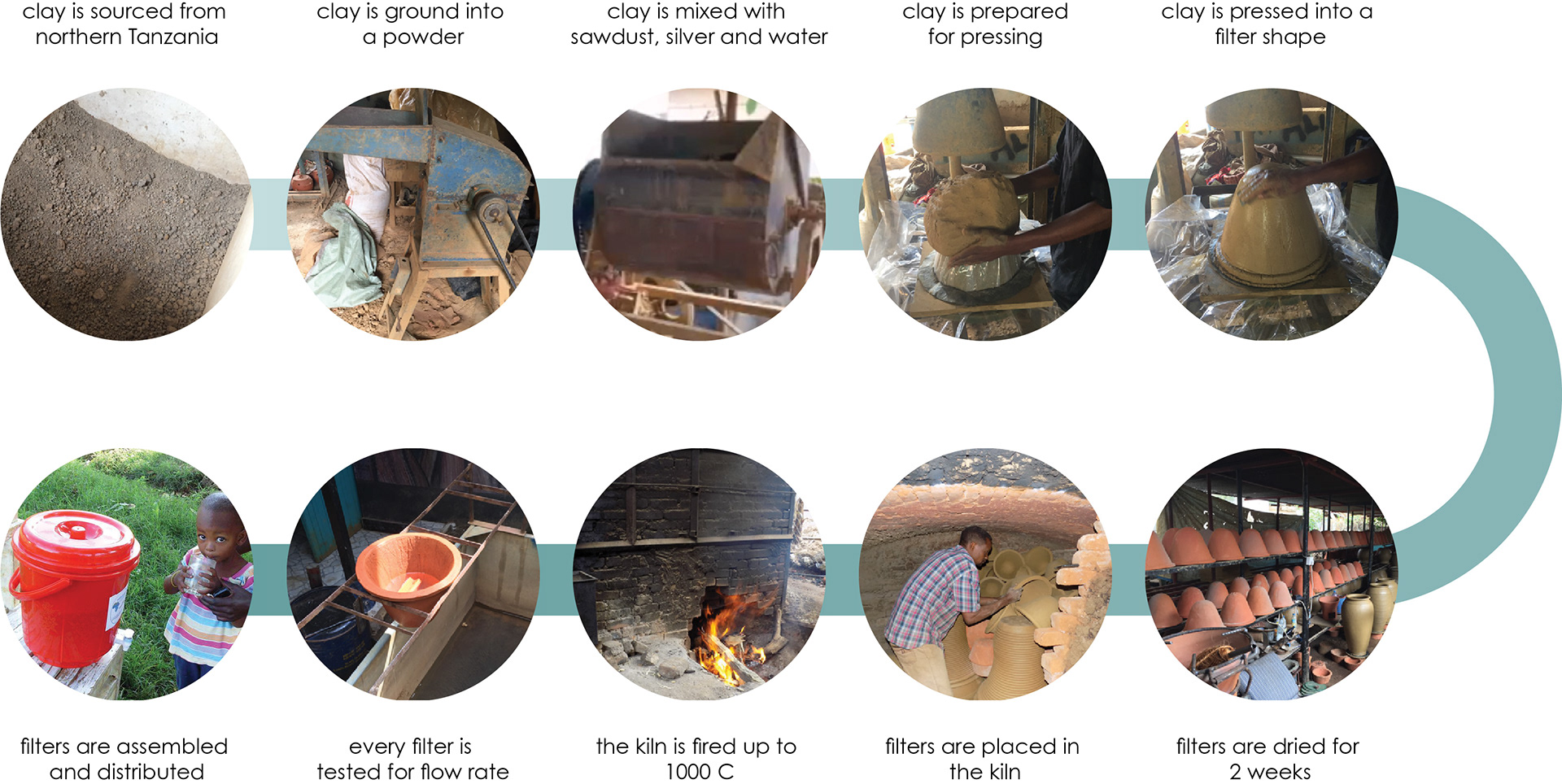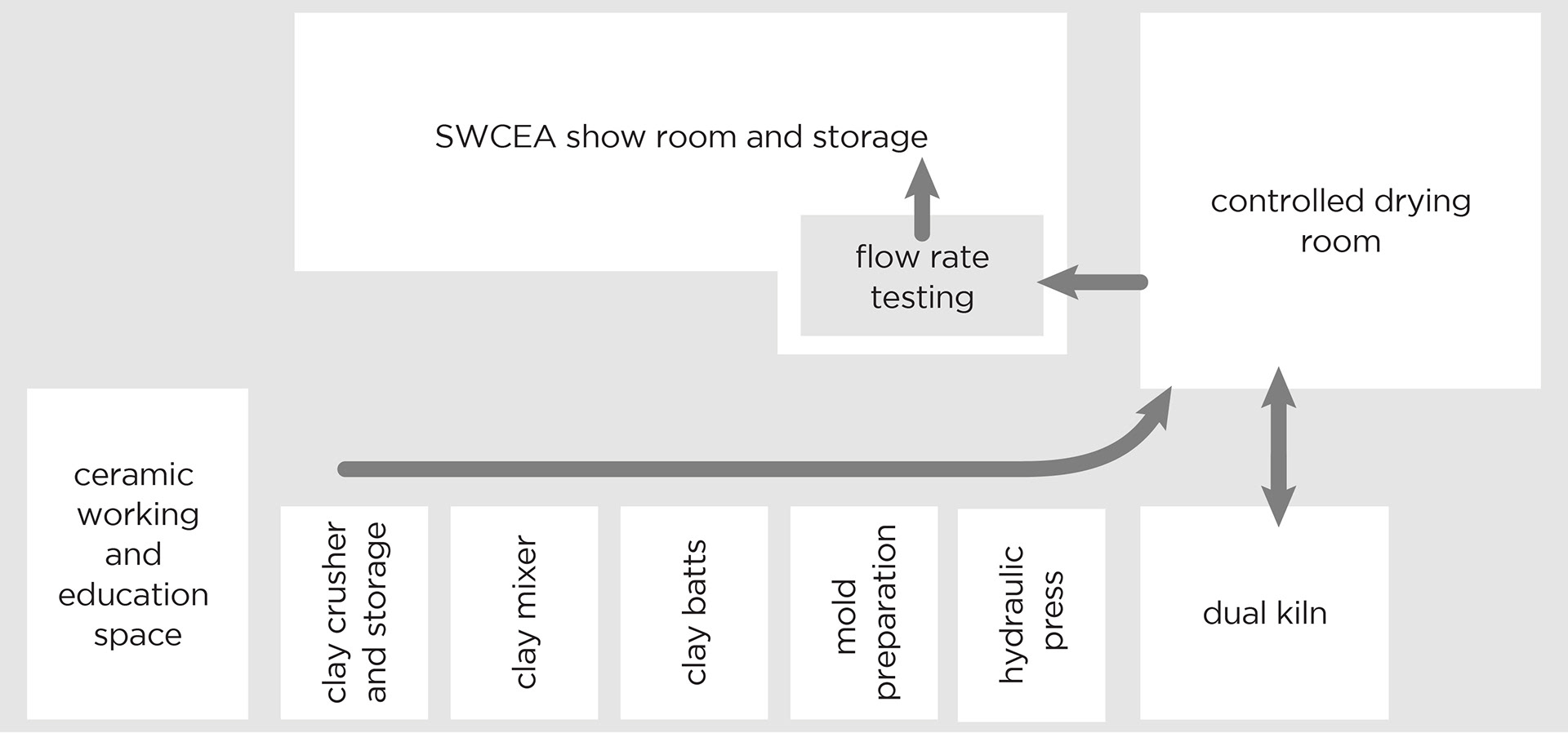 FACTORY FLOOR PLAN DESIGN
The design of the factory floor at Wine to Water East Africa was reconsidered for easier access and workflow. The old layout had all the equipment placed in a small area with limited space to move around and access machinery. The new space has a simple linear workflow that shows off the process to tourists and donors. A controlled drying room would prevent uneven shrinking, warping, and cracking in the filters which would lead to a lower rate of failure.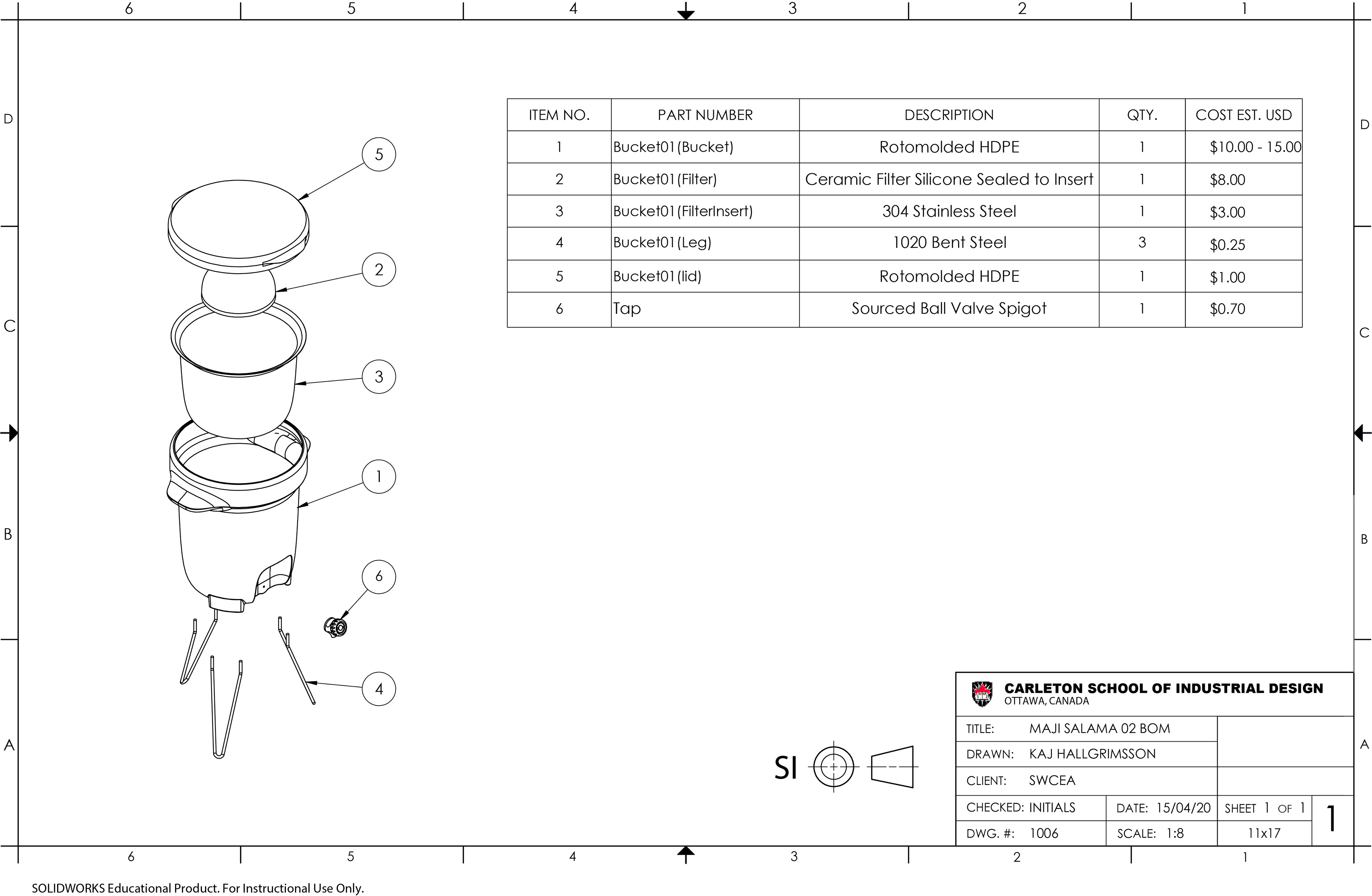 SPECIALIST CONSULTATION
During my design process I consulted other designers, experts and molders for input on my design. These include Nick Henwood at ARM, Bob Chen at Ningbo Roto-Mould, Dean Parisseau at Allied Resin, and Peter Connors at Remcon. While these are all North American or Asian specialists, I am still waiting on quotes from companies in Tanzania through the "Small Industries Development Organization" in Arusha who will ultimately fabricate this product.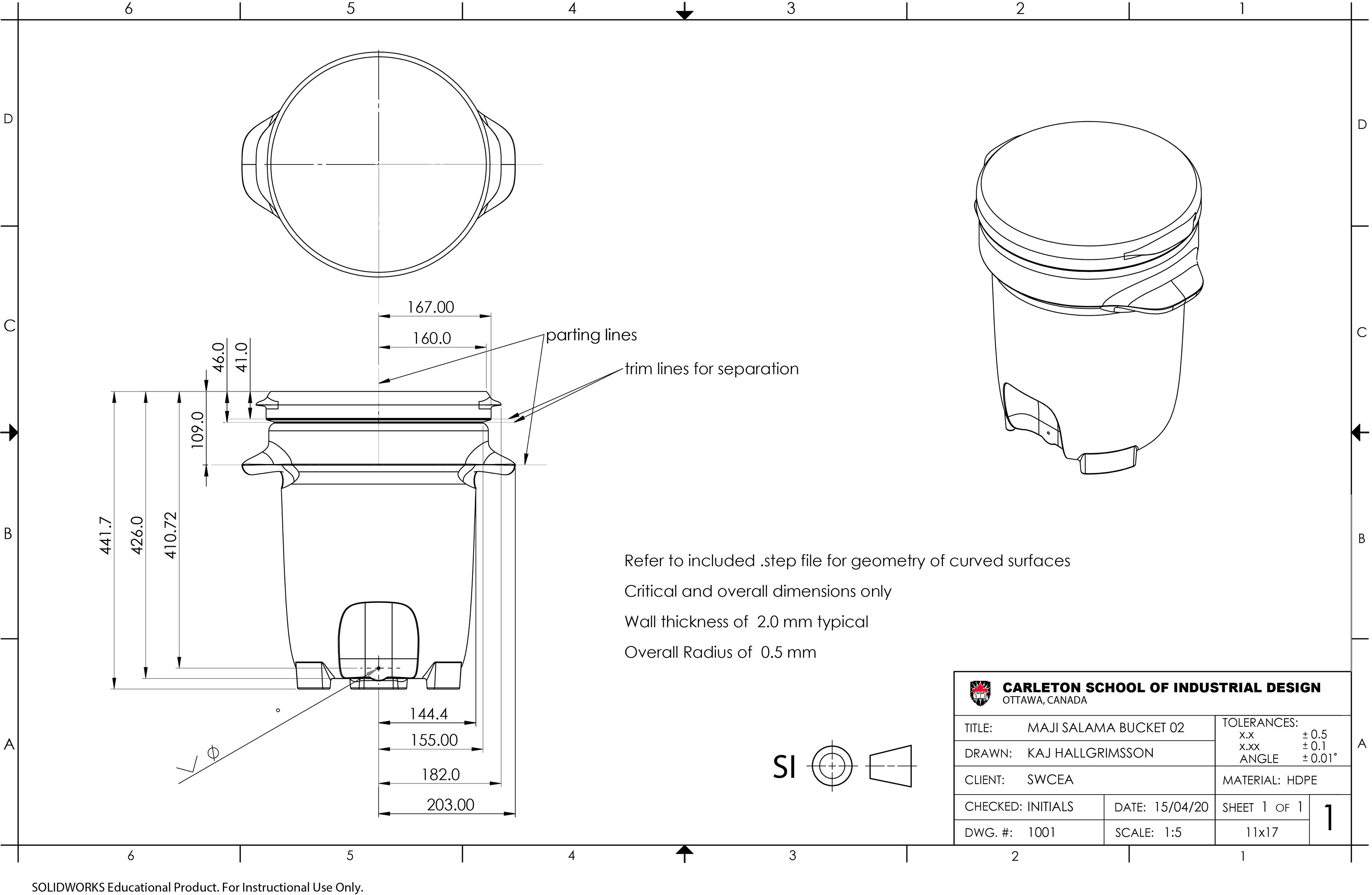 MANUFACTURING CONSIDERATIONS
The wall thickness of the bucket is 2.5 mm. This was driven mainly by the need to keep this product inexpensive, as more thickness increases cycle times and cost. 2.5 mm is strong enough for the bucket to hold its form and be durable in its rural environment. 
After some consultation, it was suggested that I increase the wall thickness to 4-5 mm for normal cast molds. One molder, Dean, had been experimenting with creating thinner walled paddleboards between 2.5-3 mm. He said that these thin walls could be achieved with a CNC machined mold milled from a quality aluminum billet for more even heating to prevent micro holes from forming. Dean also suggested LLDPE over HDPE for its puncture resistance and gave suggestions for a two part mold with removable pins for the bosses as a cheaper alternative.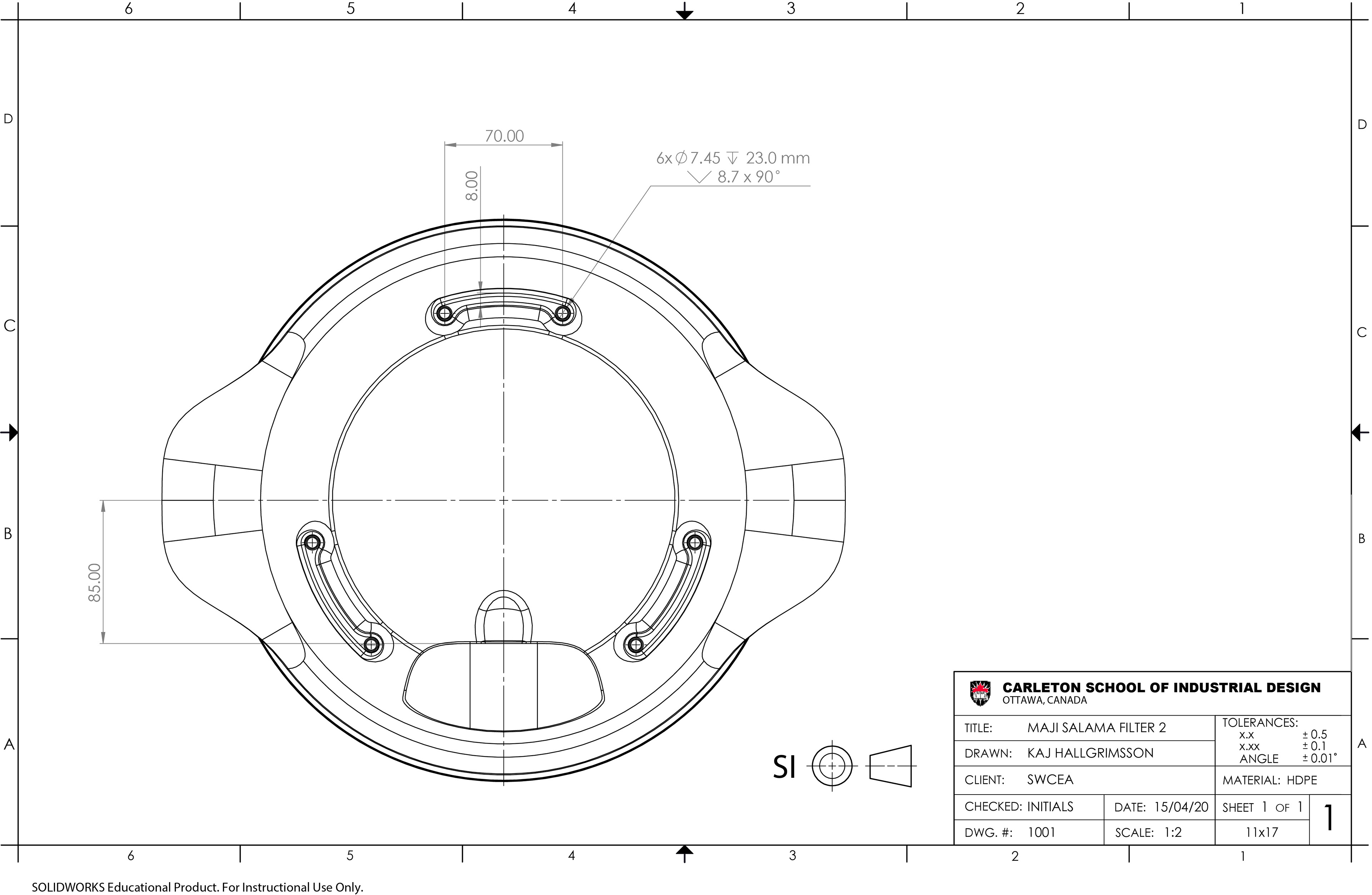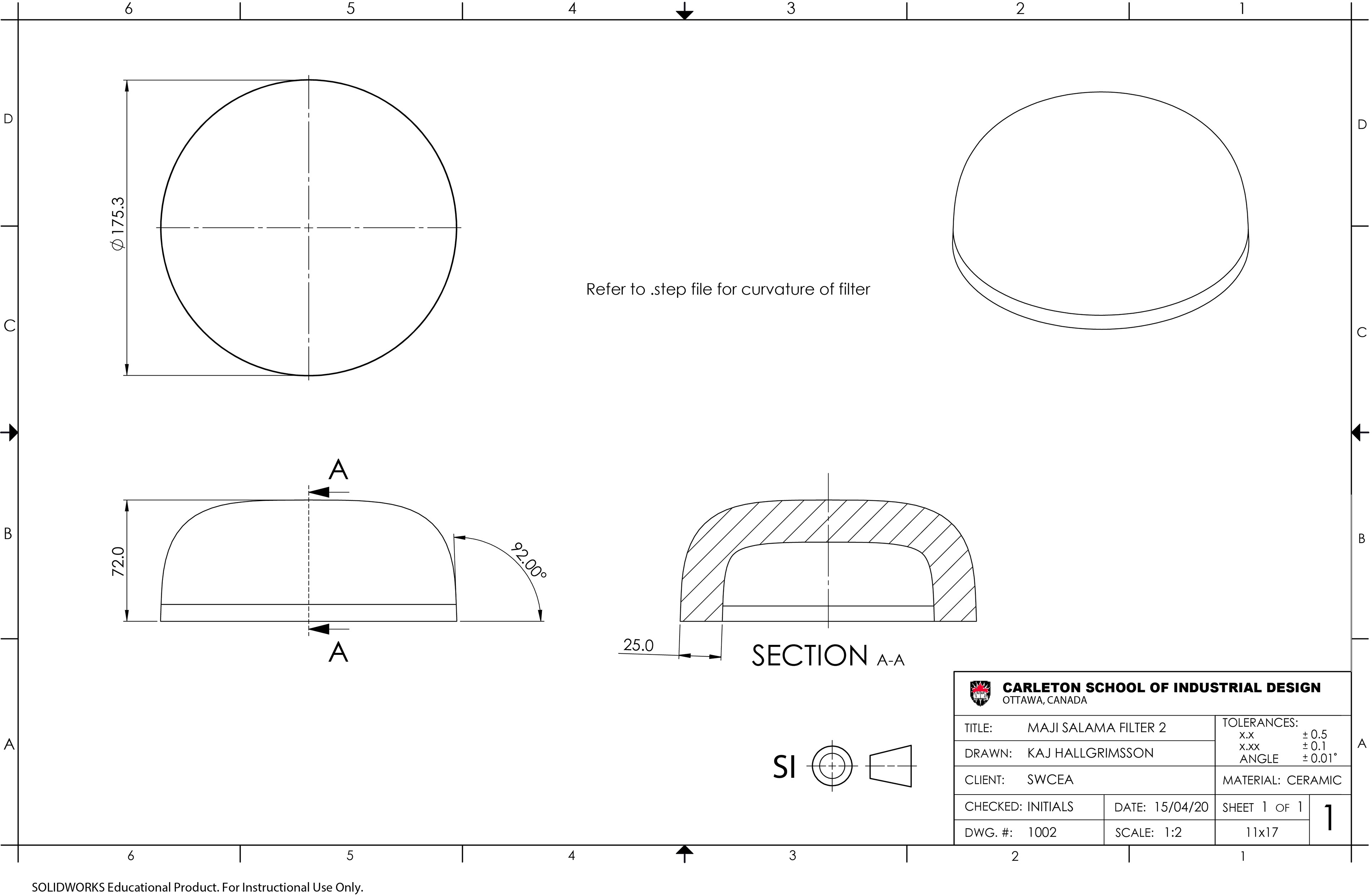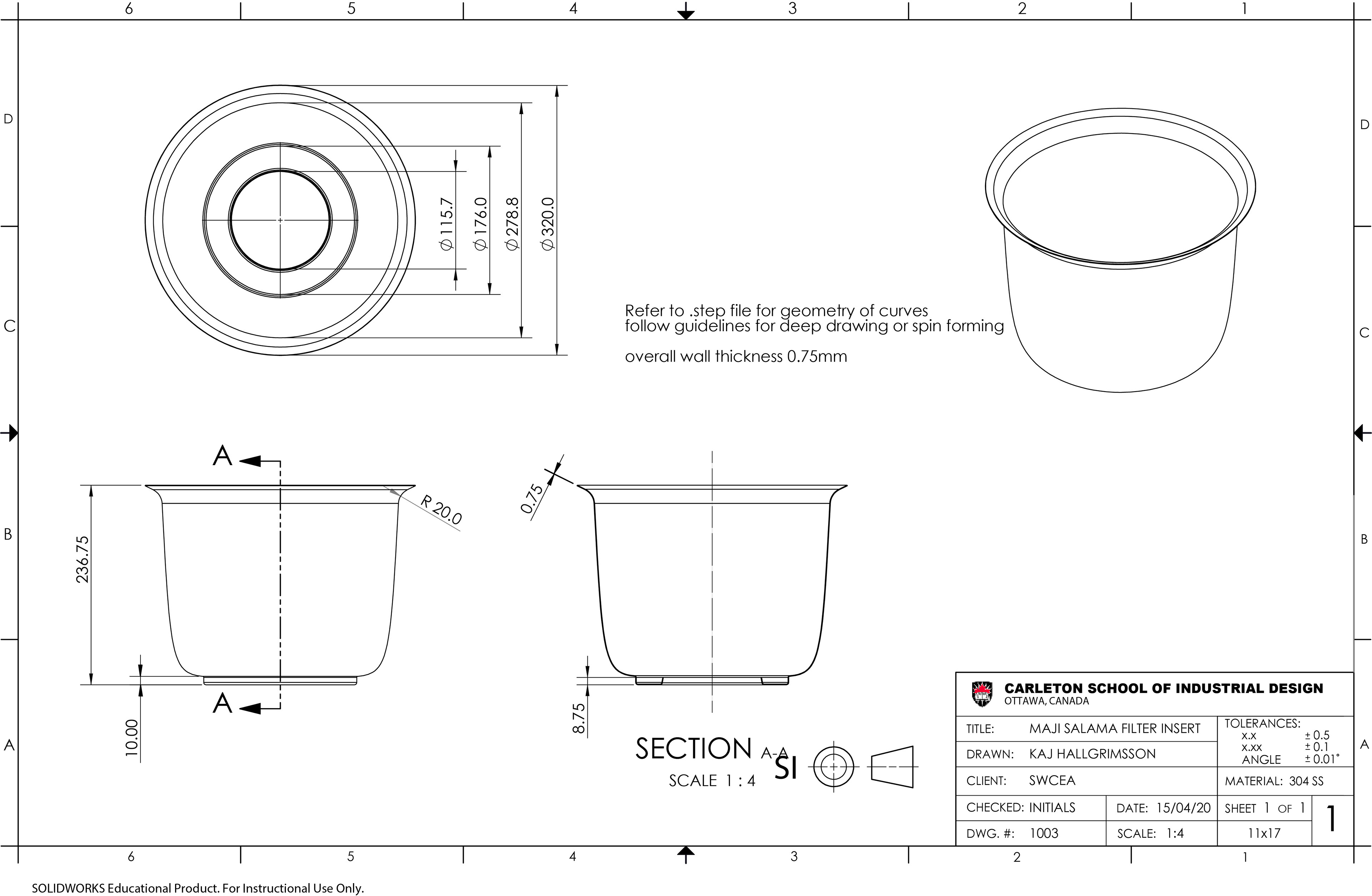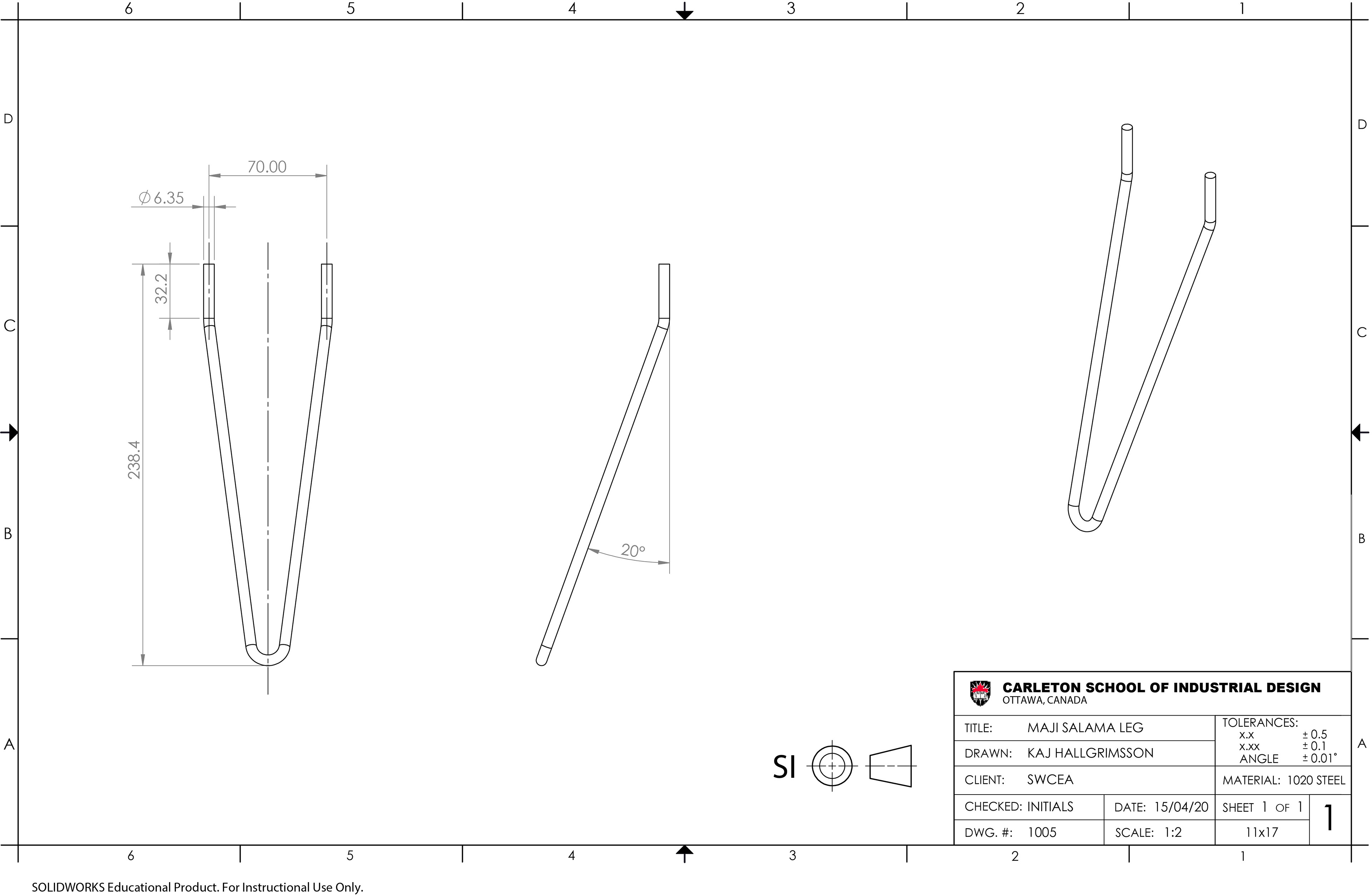 QUOTATIONS
I was fortunate to receive quotes and advice from two separate rotomolding companies, Allied Resin and Ningbo Roto Mould. Allied Resin is a North American Company based out of Massachusetts while Ningbo is a Chinese manufacturer. Both companies represent the range of pricing available for this product and given the labour costs in Tanzania, the price per part will likely be somewhere in the middle.