Context
Wind shifts are common on the water, some are favourable while some are not. A Lift means that the wind has shifted in your favour, allowing you to head up to round a mark. A Knock means the opposite, this type of wind shift pushes you further from the mark meaning you might have to tack.
The SeaBreeze app lets users set a bearing that will display how many degrees a wind shift has either knocked or lifted the boat.
WHAT IS THE NEED?
Competitive sailing relies heavily on decision making and tactics. There are a lot of variables that influence a boat and even minor adjustments can make all the difference. The issue is that finding this information on multiple instruments and communicating under stressful situations can be difficult. Most systems that consolidate this data cost upwards of $5,000 - $10,000 and are very intimidating for the average captain. 
Thanks to smart phone technology, this data can be easily accessed and shown with a simple peripheral device at a much lower cost. This information can now be shared to the whole crew for best performance.
PROTOTYPE
Using Adobe XD I was able to put together a wireframe of the actions that users would go through in order to test and refine the usability of the application
USABILITY TESTING AND QUICK MOCK UPS
I created quick wire frames to map out how a user would interact with the app. Finding the right placement and prioritizing data at a quick glance was important to keep the focus on the race rather than the screen. 
Three screens are used to organise useful information. The most used data like wind direction and bearing is on the first screen in big text. Critical data such as the race timer, boat speed and depth are on the top of each page. Secondary information is placed on the left screen and a GPS based chart is placed on the right.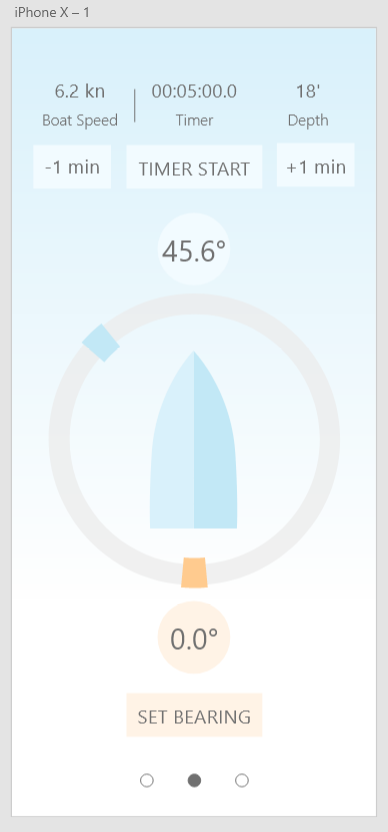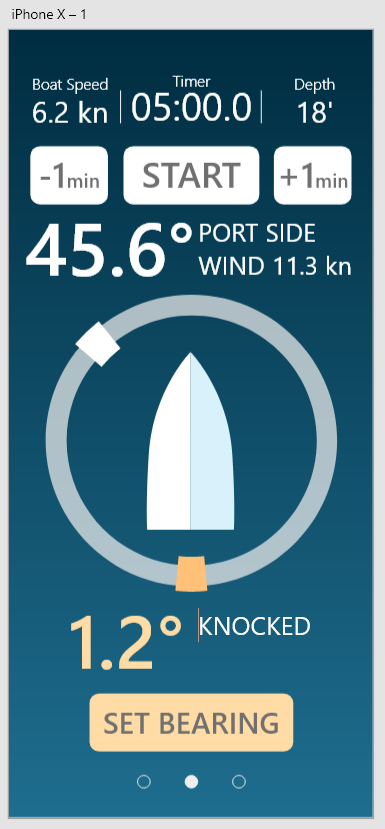 NIELSON'S 10 P'S
Colour and contrast were very important factors influencing the success of this app. Making information clear, concise and accessible was done by decluttering each page and increasing the size of critical information.
The assets were designed to be fun and recognizable for their application using familiar objects and metaphors. Simple shapes with soft edges makes this app approachable.